Mission:
Foster a visible, active and growing culture of Gospel-centric peace and justice within our parish.
---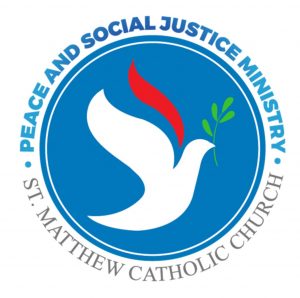 The Peace & Social Justice Ministry seeks to help parishioners see the challenges of modern society – poverty, homelessness, immigration, racism, globalization – through the lens of our Catholic faith. Grounded in the rich tradition of Catholic Social Teaching, we seek to live out the Gospel by calling attention to social justice issues, finding ways to work directly with the poor, and advocating for change wherever injustice exists. Key themes of Catholic Social Teaching include:
Life and dignity of the human person
Human rights and responsibilities
Preferential option for the poor and vulnerable
The dignity of work and rights of workers
Solidarity beyond borders
Care for God's creation
We have some exciting plans for the new year, including a Peace & Social Justice film series, a robust education/advocacy campaign, thought-provoking speakers, a fair-trade market, and a human trafficking event. We invite you to learn more about us and how you can get involved in being the hands of feet of Jesus Christ to the world. For more information, email Peace.SMCC@gmail.com.
---
Upcoming Local Events: Click on the title to register for the event.
Caring for God's Creation is a fundamental theme of Catholic Social Teaching. Pope Francis' 2015 Encyclical Laudato Si' is a wake-up call for Catholics and non-Catholics to the realities of the world we live in. One of the most critical natural resources is water. While many of us take clean water for granted when we turn on a spigot, most of us don't realize just how fragile the water system is right here in Charlotte. The Catawba Riverkeeper Foundation (CRF) is a community-based group of members and volunteers located throughout the 5,000 sq. mile, 24-county river basin that dedicates time, talent and treasure to ensuring the protection of the Catawba-Wateree River.
Where does our water come from? Where does it go? What are the biggest threats to the quality of our water? How does economic development impact the water system? How was our water impacted by 2018 hurricanes? What can we do to help conserve water? How can we help ensure safe, clean drinking water for the generations that follow us? Join Emilee Syrawicze, Executive Director for the Catawba Riverkeeper Foundation, as she talks about the state of Charlotte's fragile water system.
Movies with a Purpose featuring "I Am"


Saturday, Feb. 2, 7 to 9:30 p.m.
New Life Center Banquet Room
NEW for 2019! Movies With a Purpose – A Peace and Social Justice Film Series
Join us for movie night at St. Matthew featuring the documentary I Am by Hollywood Director Tom Shadyac, who after a serious accident went out to explore the true meaning of what it means to be human and happy.
The film asks the question "What is wrong with the world and what can we do about it?" and documents Shadyac's personal journey after a bicycle accident in 2007 that led him to the answers about the nature of humanity, the world's ever-growing addiction to materialism, and human connections.
Come to be entertained, inspired and encouraged to look at our world a little differently in 2019!
See a preview of the film here:
Free popcorn and snacks! Limited child care is available. Reserve your spot now by calling 704-543-7677 x 1003.
I Am is rated PG-13. The movie is 76 minutes long and will be followed by a short talk by Father Pat.
Interested in learning more about the Peace and Social Justice Ministry? Please email us at Peace.SMCC@gmail.com.
S.O.A.P.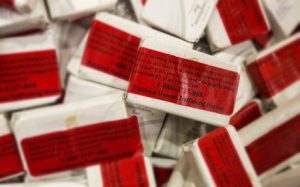 click on the title below to register for this event.
Saturday, March 23, from 9 am to noon, New Life Center
Think human trafficking is not happening in our zip code? Think again. Charlotte ranks eighth in the nation for number of human trafficking cases reported, with girls and boys being groomed and lured online for sex/slavery at malls, shopping centers, sporting events, and other public venues.
Theresa Flores, a 15-year-old from a well-to-do family in a suburban neighborhood, was one of them. Now an author, and international speaker on human trafficking, Flores will talk about the problem, share her personal story, and provide practical ways to combat this evil at a Saving Our Adolescents from Prostitution (SOAP) event on Saturday, March 23, at St. Matthew Catholic Church. Participants of all ages are invited to help label bars of soap with the National Human Trafficking Hotline number to be delivered to area hotels and other known trafficking spots in Charlotte.
Flores is author of The Slave Across the Street and The Sacred Bath. She has been featured on The 700 Club, The Today Show, and MSNBC's Sex Slaves-The Teen Trade. She has also been featured on Nightline, America's Most Wanted, and For the Record as a sex slave survivor. For more information about Flores and her work, visit www. TraffickFree.com.
If you suspect someone is a victim of human trafficking, call 911 right away and do not attempt to confront a suspected trafficker directly or alert a victim to your suspicions. To get help from the National Human Trafficking Hotline (NHTH), call 1-888-373-7888 or text HELP or INFO to BeFree (233733).
This event is sponsored by the Peace & Social Justice Ministry. Contact us at Peace.SMCC@gmail.com 
Monthly Article
To volunteer or ask a question, contact Michael Burck.
New to volunteering at St. Matthew?Please read our Safe Environment Policy.
---