---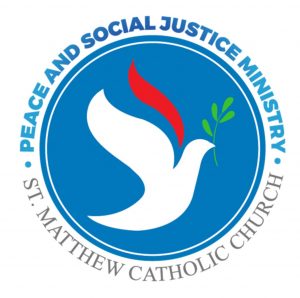 The Peace & Social Justice Ministry seeks to help parishioners see the challenges of modern society – poverty, homelessness, immigration, racism, globalization – through the lens of our Catholic faith. Grounded in the rich tradition of Catholic Social Teaching, we seek to live out the Gospel by promoting peace, living in solidarity with the poor and marginalized, and advocating for change wherever injustice exists.
Catholic Social Teaching is a central and essential element of our faith. Its roots are in the Hebrew prophets who announced God's special love for the poor and called His people to a covenant of love and justice. It is a teaching founded on the life and words of Jesus Christ, who came "to bring glad tidings to the poor . . . liberty to captives . . . recovery of sight to the blind"(Lk 4:18-19), and who identified himself with "the least of these," the hungry and the stranger (cf. Mt 25:45). Catholic social teaching is built on a commitment to the poor. This commitment arises from our experiences of Christ in the
Eucharist.    — From Sharing Catholic Social Teaching : Challenges and Directions , USCCB
---
You are invited to attend a truly special speaking engagement from professor and priest, Father Paulinus Ikechukwu Odozor, C.S. Sp. coming from the University of Notre Dame.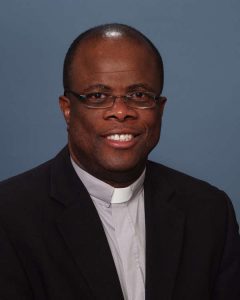 CATHOLIC SOCIAL TEACHING AND ITS MODERN CHALLENGES
Father Paulinus Ikechukwu Odozor, C.S.Sp
Thursday, Nov. 19, 2020
7 to 9 pm
Banquet Room
No fee; Registration is required by Wednesday, Nov. 18
Click HERE for registration; required for updates and to let us know you are coming.
Father Paulinus Ikechukwu Odozor, C.S.Sp., is a priest of the Congregation of the Holy Spirit (Spiritans). He received his initial formation in Nigeria and did his graduate studies at St. Michaels College, Toronto, Regis College, Toronto, and the University of Toronto. Father Odozor's scholarly interests are in Foundational issues in Christian ethics; history of Catholic moral theology; contextual theological issues, including questions pertaining to enculturation; theology and society; African Christian theology; and the theology of marriage. Fr. Odozor is also an Africanist with interest in African history, African literature, African politics' and questions relating to change and contemporary African societies. In addition to being the author of many articles in peer-reviewed publications in Africa, Asia, Europe, and North America, Fr. Odozor has also authored or edited nine books. Fr. Odozor held numerous academic, administrative, and pastoral positions in Nigeria and Canada. He was president of the Governing Council of Spiritan International School of Theology in Enugu, Nigeria (2005-2017) and Father Odozor was appointed by Pope Benedict XVI as expert assistant to the 2009 Synod of Bishops for Africa.
---
We believe … key themes of Catholic Social Teaching:
"To receive in truth the Body and Blood of Christ given up for us, we must recognize Christ in the poorest, his brethren."  – Catechism of the Catholic Church, No. 1397
Upcoming Events
For the Green Team's 50 Ways to Care for Creation article, click here.
Ministry Contact Information
For more information or to join us, please contact one of our ministry leaders or email us at Peace.SMCC@gmail.com.
Jenny Cox—704-345-7404
Joanna Patcha—949-922-8928
Sally Villanueva—704-451-5606
New to volunteering at St. Matthew? Please read our Safe Environment Policy.