Mission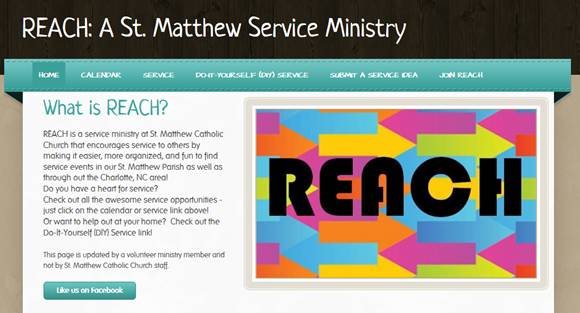 Imagine a network that allows the youth and families of our parish to have easy access to a myriad of service opportunities within our church, diocese, and community. Imagine families working together to fill a need; feed a neighbor, clothe a child, and to speak for those who cannot speak for themselves. Imagine REACH, the youth and family service program and utility, that encourages service to others by making it easier, more organized and fun to align parishioners with service opportunities.
Description of agencies served: REACH will publicize events for and assist all service-based organizations as long as they do not contradict our Catholic faith teachings.
The REACH ministry has a new look and feel! Please check out our new website by clicking on the following link:  www.stmatthewreach.com. On the site, you'll be able to view volunteer/service opportunities by:
By date
By volunteer age range
By service area
Volunteers can get their hands dirty with community gardening, show off their cooking prowess by preparing (and serving!) meals to the homeless, helping youth via tutoring, etc. We also organize and host several REACH sponsored events with organizations such as on-campus family service events, outings for Bright Blessings, work at Missionaries of the Poor and Serving Charlotte's Homeless. Volunteers are also needed to serve on our Core Planning Team which works to identify and facilitate all the behind the scenes activities that make REACH possible.
We also show links to DIY service opportunities and now have web-form functionality to allow you to connect directly to us – you may submit a service idea, or even connect with our team if you are interested in joining our ministry team.
To sign up for the Sunday uptown walks to help feed the homeless, click here.
Time Commitment: Varies
Contact: Kate Dennstaedt, 443-745-8401
New to volunteering at St. Matthew? Please read our Safe Environment Policy.