Sunday, April 29, 7 pm in the church. Please make this a priority for your family and plan to attend.
On average, 115 Americans die every day from an opioid overdose. (CDC)
In North Carolina, opioid-related deaths increased by over 800% between 1999 and 2016.
Union County EMS has had a 600% increase in overdose calls in the last four years.
The current opioid epidemic is the deadliest drug crisis in American history. Overdoses, fueled by opioids, are the leading cause of death for Americans under 50 years old – killing roughly 64,000 people last year, more than guns or car accidents, and doing so at a pace faster than the H.I.V. epidemic did at its peak.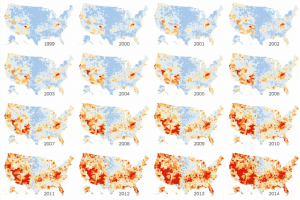 How overdose deaths rippled across the United States.
Credit Haeyoun Park and Matthew Bloch/The New York Times
Join Union Country District Attorney Trey Robison and a panel of experts on Sunday, April 29, at 7 pm in the church to learn more about this epidemic plaguing our communities and how we can save our children from suffering from this rampaging dilemma.
If you would like more information on this epidemic click here.