Join Father Davis in helping the World Hunger Drive in a new way!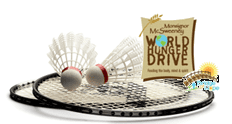 Introducing, for the first time ever, our parish badminton doubles tournament on Saturday, Oct. 7, from 7:00 am – 4:00 pm. All ages 15 and above are invited to participate. Teams may consist of doubles and mixed doubles. There is a maximum number of 36 players.
The registration fee is a soccer ball or cleats or $25 per person. All proceeds go to the Monsignor McSweeney World Hunger Drive.
To register, click the button below.
The deadline for registration is Sept. 15. Champions receive a rolling trophy.
For more information, email Father Binoy Davis at bdavis@stmatthewcatholic.org.