About our program…
Our Curriculum
We utilize RCL Benziger's Blest Are We – Faith In Action during the catechetical small group portion of our sessions.  For more information on their program, click on the picture below.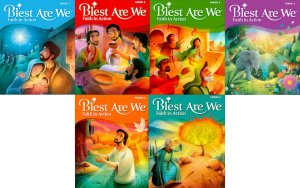 Circle of Grace
Circle of Grace – Philosophy
The Catholic Church teaches that God has created each of us as unique and special. Genesis 1:27 tells us that we are created "in God's image" and that God saw this as "very good." In that goodness, we are meant to respect ourselves and everyone else as persons created and loved by God.  This program is designed to recognize God's love by helping them to understand that each of us lives and moves in a Circle of Grace. You can imagine your own Circle of Grace by putting your arms above your head then circle down in front of your body including side to side. This circle, front to back, holds who you are in your body and through your senses. It holds your very essence in mind, heart, soul, and sexuality.
 Why is it important to help our children/young people understand the Circle
of Grace?
God intends our relationships in life to be experiences of divine love.  Respectful, nurturing, loving relationships increase our understanding of our own value and help us to love others. It is never too early to help children understand how very special they are and how relationships in life are called to be sacred. Understanding this can help them to protect the special person they are and to be respectful of others. Adults, as they strive to provide a safe and protective environment, hold the responsibility to help children understand and respect their own dignity and that of others. A truly safe and protective environment is one where children recognize when they are safe or unsafe and know how to bring their concerns, fears, and uncertainties to the trusted adults in their lives.
How is the Circle of Grace Program different from other protection programs?
According to research, one in four girls and one in seven boys will be sexually abused by age eighteen.1  Many protection programs focus on "stranger danger," however, up to ninety percent of the time the perpetrator of abuse is known to the child such as a relative or family friend. Circle of Grace goes beyond just protection by helping children understand the sacredness of who they are and how to seek help through their relationships with parents and trusted adults.
1 usccb.org or nccanch.acf.hhs.gov
 Circle of Grace – Key Concepts
God gives each of us a Circle of Grace in which He is always present.
 God is "Present" because He desires a relationship with us.
God is with us when we are happy and sad. God does not cause bad things to happen to us.  He loves us very much.
God desires to help us when we are hurt, scared or confused (unsafe).
Having faith may not take away all of life's struggles.  It is because of these struggles, God promised to always "be present"; providing guidance and comfort in our time of need.
God helps us know what belongs in our Circle of Grace
Our feelings help us know about ourselves and the world around us.
God helps us know what belongs in our Circle of Grace by experiencing peace, love or contentment when something or someone good comes into our Circle of Grace.
God helps us know what does not belong in our Circle of Grace
God desires to help us when we are hurt, scared or confused (unsafe).
The Holy Spirit prompts (alerts) us that something does not belong in our Circle of Grace by giving us "a funny or uncomfortable feeling" that something is not safe. This feeling is there because God wants us to be safe.
 God helps us know when to ask for help from someone we trust.
God gives us people in our lives to help us
God wants us to talk to our parents and trusted grownups about our worries, concerns or "funny/uncomfortable feelings" so they can help us be safe and take the right action.
Our programs for children are designed to provide each child to discover the joy of a friendship with Jesus, and to allow them to explore how to grow that friendship  through the gift of our Catholic faith.
The elementary years are filled with the important and exciting steps of preparing for the sacraments of Reconciliation and First Holy Eucharist, and then learning how to be a young disciple for Christ.  Through our traditional faith formation sessions, Family Discipleship program and summer Vacation Bible School, our goal is to support parents in these endeavors.  You can explore more of our programs below, or reach out to any of your Faith & Family Program staff!
Diane Kiradjieff (Director)
Amy Bojarski  (Family Programs Coordinator, 6th Grade)
Lori Mathews (Sacramental Preparation, 1st/2nd Grades and RCIC)
Lisa Tavares (Sunday Preschool-Kindergarten, 3rd Grade)
Michelle Lyberg (4th and 5th Grade)