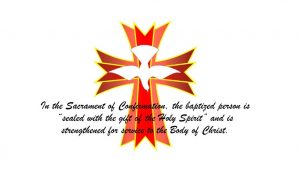 What is Confirmation?
"Baptism, the Eucharist, and the sacrament of Confirmation together constitute 'the sacraments of Christian initiation,' whose unity must be safeguarded.  Confirmation is necessary for the completion of baptismal grace. By the sacrament of Confirmation the baptized are more perfectly bound to the Church and are enriched with a special strength of the Holy Spirit. Hence they are, as true witnesses of Christ, more strictly obliged
Sacrament efficacious signs of grace, instituted by Christ and entrusted to the Church CCC 1131
(ef·fi·ca·cious) adjective \ˌe-fə-ˈkā-shəs\:having the power to produce a desired result or effect
The nature of Confirmation is initiatory, completing Baptism.
The purpose of initiation is conversion of life. Having been evangelized by the proclamation of Jesus Christ, the individual seeks a relationship with God and enters into a way of life in response to the Holy Spirit.
The effect is that Confirmation makes a person more completely the image of the Lord and intensifies awareness and response to the presence and action of the Holy Spirit.
The outcome is that a person bears witness to him before all the world and work to bring the Body of Christ to its fullness as soon as possible. to spread and defend the faith by word and deed." [Catechism of the Catholic Church 1285 and Order of Confirmation, Introduction 1 and Code of Canon Law, canon 879]
Parents What is the result you are looking to receive by having your teen confirmed?
Teens What is the effect you want this sacrament to have on your life?
For more information on how to prepare to receive the sacrament of Confirmation, see Sacramental Preparation.