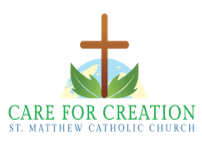 Stewards of the Earth, Our Common Home
Much of the suffering and injustice around the world is the direct result of environmental destruction.  God created our environment to provide for His people and we have been blessed with generous gifts of nature, boundless resources and precious creatures big and small.
But these precious gifts are gradually disappearing and being replaced by waste and pollution as humans succumb to  extreme consumerism and the "use and throw away" culture. The most vulnerable of all suffer the consequence… the poor, the abandoned and the forgotten.
Our Care for Creation Team strives to remind us all of our responsibility to care for the earth and thus care for one another, especially those who are unable to protect themselves.
We ask parishioners to re-engage with the environment, learn ways to live more sustainably, and take measures to live in a way so that there are enough resources left for everyone.  Our new Care for Creation Corner will provide tips to help better care for 'Our Common Home'.  Come join our team, get involved in team projects and stay tuned for periodic updates on how to Care for Creation, Our Common Home.
Laudato Si': On Care for Our Common Home
Pope Francis's writings in his Encyclical Letter, Laudato Si': On Care For Our Common Home, is not just for Catholics, but is addressed to "every person living on this planet". He pleads for us to take better care of the earth and open our eyes to how it impacts its most vulnerable people, those in poverty and those suffering injustice.
Respect for human life means respecting all of God's creation. We ask parishioners to tune in to the environment around them and take action by adopting ways to live more sustainably.  This helps to ensure that there will be enough resources for everyone on this planet and for future generations. The Care for Creation Team commits to promoting ecological conversion within our church and to seek better ways to best model our part in caring for our common home. We invite all of you to join us in these efforts!
To learn more, download the free Encyclical: Laudato Si': On Care for Our Common Home
Watch this 3 minute Video on Care for Creation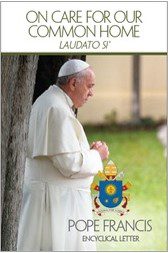 God has entrusted the world to us.. and appeals to us to "connect the destruction of the earth with human dignity…" and notice who we are harming with our irresponsible behaviors…
Replace consumption with sacrifice
Replace greed with generosity,
Wastefulness with sharing
Not just giving up things, but giving.
…as a way of loving earth and
the creatures on it.
Feast of St. Francis
We Are All Connected:
Cry of the Earth, Cry of the Poor
Every October 4th, the Feast of St. Francis celebrates the saint who saw all created beings as his brother or sister. Inspired by this example, Catholic Climate Covenant produces a free educational program to help your faith community explore how it can better care for creation and the poor.
This year's program, "We Are All Connected: Cry of the Earth, Cry of the Poor", complements and accompanies the Vatican's Amazonian Synod and focuses on integral ecology, environmental and climate justice, and lifting the voice of indigenous communities. The program contains prayers, readings, a short video, and suggested activities.
To learn more go to:
https://catholicclimatecovenant.org/program/feast-st-francis
Story of St. Francis: https://www.catholic.org/news/hf/faith/story.php?id=71063