JANUARY
1      Make A Resolution to Care for Creation'.  Words of Inspiration from Pope Francis and Laudato Si'
The Pope's encyclical, Laudato Si', is a text of landmark significance in Catholic Social Teaching. He challenges us to rethink our relationship with nature and invites us to become aware and reflect deeply on the unsustainable environmental degradation around us and its consequences.
The Pope asks us to examine our lifestyles through sound ecological virtues, strive for greater simplicity and to focus less on material things.
Through active stewardship and reducing excessive consumption/waste we demonstrate our care for Creation and gratitude for this great gift.
2    Reduce Paper Waste – Paper is recyclable. Recycle paper at home and office, and buy recycled paper products.   Forty percent of the world's commercially cut timber is used for paper. This endangers natural habitats and depletes water resources. Since it's inexpensive to print, we do it without thinking. Try to go paperless: think about what you print, your bank statements, the paper towels you use, and the junk mail you haven't opted out of. There are many areas where each of us can help to lessen paper production.
Join our Care for Creation Efforts!  Go to https://stmatthewcatholic.org/care-for-creation/
FEBRUARY
1   Live Simply The sum total of all our daily purchases has a massive impact on the environment. The associated destruction of nonrenewable resources, the global warming emissions and industrial toxins from manufacture and transportation of "stuff" really adds up. Examine what you really need, where it comes from, and whether it needs to be a "new" purchase. Pope Francis urges us to live more simply, as his namesake St. Francis of Assisi did, and to be mindful of our impact on and interdependence with nature.
2   Support green with your purchasing power – Buy products made of recyclable, reusable or biodegradable containers or packaging, and avoid Styrofoam that contains non-biodegradable and carcinogenic elements. When buying items, check product labels to determine an item's recyclability and whether it is made from recycled materials.
Join our Care for Creation Efforts!  Go to https://stmatthewcatholic.org/care-for-creation/
MARCH
1   Conserving Water – The average American uses 156 water bottles/year. Due to limited demand, only a small portion of the plastic in your recycling bin gets recycled. Plastic takes decades to degrade, breaks down into smaller pieces, which animals mistake for food, and die. We must use less. During Lent, lets sacrifice convenience to protect the wonderful environment God has given us.
2   Water is a precious life-giving resource requiring enormous energy for distribution/treatment.
How you use water can have a significant environmental impact over time. Low flow shower heads, washers, dishwashers and toilets reduce water waste (and cost), as does avoiding letting water run unnecessarily. Fully load washers and dishwashers for more efficient use of this important resource and to be good stewards of the environment God has given us.  
      Join our Care for Creation Efforts!  Go to https://stmatthewcatholic.org/care-for-creation/
APRIL
1   Earth Day and Care for Creation – To commemorate Earth Day (April 22), consider reading Pope Francis's landmark encyclical letter about our planet's environment.    If you don't own a copy of "
Laudato Si': On Care for Our Common Home," you can find it at https://bit.ly/1Lh3szp
From time to time, questions arise about what the connection is between the Catholic faith and the environmental sustainability recommendations presented in this column. Care for God's Creation is one of the seven themes of Catholic social teaching.  Care for Creation is not just an Earth Day slogan, it is a requirement of our faith. We are called to protect people and the planet, living our faith in relationship with all of God's creation. The Bishop's tell us, "The environmental challenge has fundamental moral and ethical dimensions that cannot be ignored."  To learn more about the Catholic Climate Covenant Earth Day campaign, go to: https://catholicclimatecovenant.org/program/earth-day
2   Earth Day 2020: 50th Anniversary of Earth Day! – The diversity and the populations of the species around us and upon which we depend, are declining at alarming rates.  However, we can act to protect our species, through our individual actions, our communities, nationally, and globally.  Grounded in scripture, Catholic social teaching, and Laudato Si, this year's Earth Day program will help mobilize the Catholic community to take urgent action to protect all of God's creation. The one-hour educational program includes prayers, readings, a short video, and suggested activities.
To learn more about the Catholic Climate Covenant Earth Day campaign, go to: https://catholicclimatecovenant.org/program/earth-day.
       Join our Care for Creation Efforts!  Go to https://stmatthewcatholic.org/care-for-creation/
3   St. Matthew Cares for Creation Action Plan:   We can show our plan, initiatives, and efforts for 2020.
4    The Dangers of Electronic Waste to Earth and People
This Earth Day and in honor of God's greatest gift to us, earth, we want to help reduce one of the most dangerous waste streams on the planet created by mankind: E-waste, or electronic waste.  It represents 2% of America's trash in landfills, but it equals 70% of overall toxic waste that contain harmful materials such as lead, cadmium, chromium, brominated flame retardants or polychlorinated biphenyls (PCBs), and more which impact human health and create the accumulation of chemicals in soil, water and food.
Because of the dangers of electronic waste, a NC state law requires that electronics must be disposed of properly and recycling is always an option.
Sadly, a 2018 study reported that only 12.5% of e-waste is recycled.
This year, St. Matthew will host an E-Waste Collection Drive to properly dispose of and recycle electronic waste.  These materials often have value and can be a great fundraiser.         Host one in your school or community!
Bring your unwanted, broken or even new electronics to the monthly Donations Ministry Collection on April 11th, 2020.
Seven Themes of Catholic Social Teaching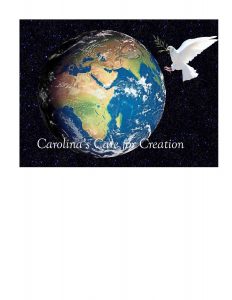 Join our regional Care for Creation Facebook Group to learn more about our Catholic Social Teaching to better take care of God's Creation and gift to us.  
Go to https://www.facebook.com/groups/599429710549680/