2020.2021 Program Year
Mass Booklet Pages Coming Later Today (Thursday, Feb. 25)
A beautiful and exciting year awaits your son or daughter. This is the year your child will prepare to experience God's love and forgiveness through the sacrament of reconciliation, and to receive Jesus in the sacrament of the Eucharist.  In the links and drop-downs below,  you will find the important dates and information necessary to help support you in getting them ready for the moment of reception of the Eucharist for the first time.  Please note that all meetings, retreats and celebrations of the sacraments will take place at the Ballantyne campus.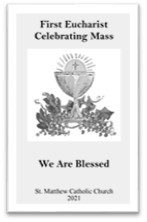 The First Eucharist Celebrating Mass booklet is designed to help your child learn more about the Mass and what we do as Catholics when we gather together to celebrate the Holy Eucharist. The questions explore the physical aspects of the St. Matthew Church building, the liturgy of the Mass and the Word of God.  Families are to complete the questions after attending Mass each week, whether you attend virtually or in person.
First Eucharist Parent-Child Retreat Dates and Times
One of the final steps in the family preparation for your child's reception of Holy Eucharist for the first time takes place at our parent-child retreats.  Following the parent learning opportunity zoom meetings, a link will be emailed for parents to choose one from the following times:
April 16 at 4:30, 5, 5:30 and 6 pm
April 17 at 9, 9:30, 10, 10:30 and 11 am; 12, 12:30, 1, 1:30 and 2 pm
April 22 at 4:30, 5, 5:30 and 6 pm
Celebrations of the Mass of First Eucharist
Due to restrictions on gatherings, and for the safety of all, we ask that families limit the number of people attending the Mass of First Eucharist to approximately six.  Exceptions may be made in the case of blended families or if your immediate household exceeds ten, but must be approved by the Office of Faith Formation. Please note should there be any changes to CDC guidelines or decisions put forth by parish leadership, by May the number of guests at the Mass could be limited further.
Following the parent learning opportunity zoom meetings, a link will be emailed for parents to choose one from the following times:
May 7 at 4 and 6 pm
May 8 at 9:30 am, 11:30 am and 2 pm
May 15 at 9:30 and 11:30 am