Mission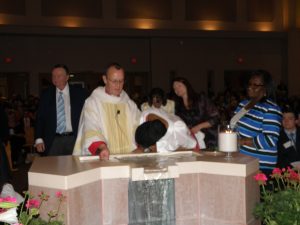 The Rite of Christian Initiation of Adults is the process used by the Catholic Church to present the beliefs of this faith to those adults who have made a conscious decision to explore coming into full communion with the Church.
Our RCIA Team, in conjunction with the pastoral staff, is committed to the presentation of the doctrine of our faith, in a welcoming and understandable manner, to members of our community who have made the decision to seek this step in their personal faith journey, and join with us as we strive to live the mission of Jesus Christ through prayer, service, outreach, fellowship and a true sense of family, as we minister to all members of our parish and community, especially to those in need.
Information
Stages of Becoming a Catholic
INQUIRY    This is the initial period before you decide to enter the Catholic Church. You're asking questions and checking it out, but aren't yet ready to commit.
CATECHUMENATE    Those who decide to enter the Church and are being trained for a life in Christ are called catechumens, an ancient name from the early Church. In this stage, you're developing your faith and are being "catechized" — learning catechism, or the basic points about Catholic faith and life.
PURIFICATION AND PREPARATION    The Church will help you focus and intensify your faith as you prepare to commit your life to Christ and be received into the Church at Easter.
INITIATION  This is the culmination of your journey. You're received into the Church, where you'll receive the sacraments of initiation: Baptism, Confirmation and Eucharist. If you've already been baptized in a Trinitarian baptism, you won't be baptized again.
MYSTAGOGY   After reception into the Church at Easter, this period lets you reflect and learn more about the mysteries of the Mass and the Sacraments that you now participate in fully.
– From beingcatholic.com
Volunteer opportunities
Sponsors to accompany Candidates and Catechumens on their journeys. Meetings are held weekly from September through Easter on either Sunday mornings or Monday evenings.
Time commitment of volunteers
Sponsors: Two hours per week
---
To find out more, contact Deacon Jack Staub.
New to volunteering at St. Matthew? Please read our Safe Environment Policy.
---
RCIA Photo Gallery