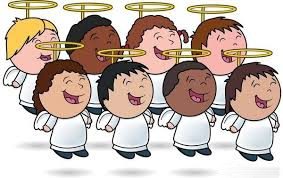 The Grace Notes Children's Choir (K-2nd grade children)
2019-2020 Season 
Rehearsals are held the 1st and 3rd Thursday from September through May, from 5:30 – 6:00 pm, in the choir room at the main campus of the church. Attendance is mandatory so the children have the opportunity to thoroughly learn each song before it is shared with the congregation before mass.        
2019-20 REHEARSAL DATES

2019-20 SINGING DATES

September 5, 2019

September 19, 2019

October 3, 2019

October 13 — 9 a.m. Mass

Prelude Songs

Everybody's Got a Place in the Choir

October 17, 2019

(No rehearsal November 7, 2019 – MACS out of school)

November 21, 2019

December 5, 2019

 

December 7  — 11 a.m. to noon

Christmas Caroling

Santa's Craft Show at St. Matthew (annual holiday craft fair)

Little Children, Can You Tell? (Grace Notes)


Rudolph the Red-Nosed Reindeer

December 12, 2019 (extra rehearsal for Christmas)

December 19, 2019

December 24 — 4 p.m. Mass,

Children's Christmas Eve Mass

ARRIVE AT 2:30 PM

Prelude Song #1:  Little Children, Can You Tell?

Prelude Song #2: In Bethlehem Tonight (click audio link below)

https://stmatthewcatholic.org/wp-content/uploads/2019/12/New-Recording-6.m4a

Youth Choir Prelude Song : Unto Us

Opening Song: O Come All Ye Faithful

(No rehearsal January 2 — Christmas Break)

January 16, 2020

February 6, 2020

February 20, 2020

March 5, 2020

 

March 8 — 9 a.m. Mass

Prelude Song: More Precious Than Silver

March 19, 2020

April 2, 2020

(No rehearsal April 16, 2020 —
Easter Holiday)

May 7, 2020

 

 

May 10 — 9 a.m. Mass (Mother's Day)

Prelude Songs:

May 14, 2020

End of Year Ice Cream Party
6:00 p.m. – 7:00 p.m.
Parish Center Gym

Parent Involvement
Rehearsals are held in the choir room. Parents may wait in the rehearsal room (if space permits,) in the Sanctuary, or return to pick up your child by 6:00 p.m. Parent (or other adult) involvement is welcomed, so please feel free to volunteer. St. Matthew is committed to providing a safe environment for all members of our faith community, especially children and vulnerable adults. All parish volunteers must be in compliance with the Diocese of Charlotte Safe Environment policies listed on the St. Matthew website here.
Contact Information
Kathy Exler Davis,  Children's Choir Director
kedavis@stmatthewcatholic.org
St. Matthew Catholic Church
8015 Ballantyne Commons Pkwy.
P.O. Box 49349
Charlotte, NC 28277
(office phone) 704.543.7677