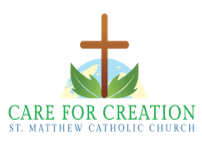 St. Matthew Care for Creation Team Initiatives
Care for Creation education – Provide a Care for Creation 101 presentation to ministries, Faith groups, youth groups and the community. Provide articles and Care for Creation tips with emphasis on social teaching. Create a video or vignettes on the Parish 24 hour loop TV monitors. Provide displays, signs and posters; use social media and a webpage to link with a Care for Creation page of resources, handouts, tips and programs.
Elimination of single use plastics and replace with earth friendlier materials like tree free, compostable plant material.  'Bring Your Own Cup' Campaign to reduce single use plastics at events.
Improve recycling capabilities on the Parish campus, at parish events and meal times.
Provide Recycle image reminder in margin of bulletins and Parish publications to recycle the paper materials.
Involve St. Matthew School – Terracycle collection for Earth Day to collect trash items for a fundraiser such as electronic waste, used and broken toys, used toothbrushes and empty cosmetic containers, water filters and used school supplies.
Collaborate with area Care for Creation Teams in the Carolinas. Creation of regional Facebook Page:  https://www.facebook.com/groups/599429710549680/
Promote Sustainable measures at the Parish – Energy efficient lighting, advances toward solar power, providing sustainable meal supplies and chemical free or low VOC materials and paints.