We invite adults and families to come participate in a March for Life Pilgrimage, January 20-22, 2022. We will gather at Saint Matthew and travel together to Washington, D.C. to stand with thousands in solidarity with the most vulnerable among us!  Join the Pro-Life Generation!
Lodging: Hilton Garden Inn, Bethesda, MD (7301 Waverly St, Bethesda, MD 20814 )
Transportation: Charter Bus (departing Thursday morning from St. Matthew, returning Saturday night)
Cost:  $220/person (2 ppl./room); $180/person (3 ppl./room); $160/person (4 ppl./room)
Includes lodging, bus transportation, breakfast on Friday and Saturday. Plan to bring additional funds for 5 other meals and cash for the metro. Each room contains two queen beds.
What will we be doing?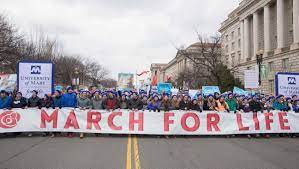 The right to life is a human right. Our defense of that right is a joyful witness to the beauty and dignity of every human person.
The March for Life is an inspiring, peaceful, vibrant, and joy-filled rally of women, men, young people, and children from all across the country. Every year, tens of thousands of pro-lifers converge on the National Mall and march on Capitol Hill on the anniversary of the Supreme Court's 1973 Roe v. Wade ruling which legalized abortion in all 50 states. It's the largest annual human rights demonstration in the world. But this is not just a protest… TOGETHER, WE GATHER TO CELEBRATE LIFE. We celebrate each and every life, from the moment of conception. We envision a world where every life is celebrated, valued, and protected.
March for Life Rally
Join us in Washington, DC for the March for Life Rally. This FREE event features a live concert and inspiring speeches from pro-life leaders – sharing how to stay involved in the pro-life movement all year long. The Rally will begin at 12 pm ET on the National Mall. If you can't join us in person, you can also watch the live-streamed event on our website, Facebook, and YouTube channel.
March for Life
This is the main event! The March for Life will begin immediately following the Rally – usually around 1 p.m. – starting between 12th and 14th Streets. We will march peacefully up Constitution Ave. to the steps of the U.S. Supreme Court.
After marching, consider attending the Silent No More testimonies outside the Supreme Court, visiting your Representative to advocate for life, or proceeding past the Supreme Court to help the flow of oncoming marchers.
(adapted from the March for Life website)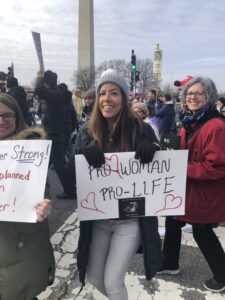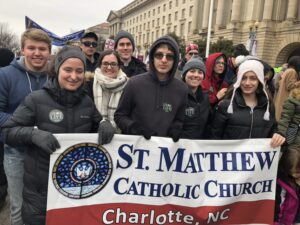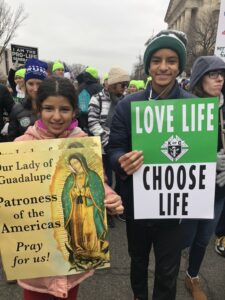 Questions?
Contact Rachel Willoughby or Lauren Piercefield.