Mission:
Our mission is to bring adults of any denomination closer to Jesus Christ by bringing Jesus Christ closer to them through praise and worship of our Lord, with live Christian contemporary music and warm spiritual messages in a non-threatening and Christian environment.
Watch the Sunday bulletin for details about our next Coffeehouse on March 15!
Volunteer opportunities: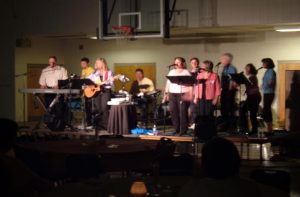 Volunteers are always needed and welcomed. If you would like to become part of our evangelizing team, contact:
Time commitment of volunteers:
Five to six hours on the afternoon/evening of the coffeehouse for set up, tear down and serving; possibly additional time at home for food prep.
---
New to volunteering at St. Matthew? Please read our Safe Environment Policy.