Mission:
To provide our fellow parishioners a place to offer thanks, petitions, and needs through prayers in the true presence of Our Lord.
Time commitment of volunteers:
Sign up for one or more scheduled hours or drop in. Adoration is held each week beginning after the 9 am Friday Mass through the start of the 9 am Saturday Mass.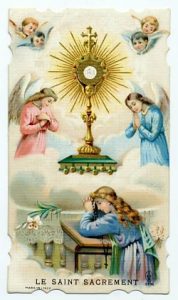 ---
To sign up or ask a question, contact ministry leader Veronica Fernandes at st.matthew.adoration@gmail.com or 704-541-0670.
New to volunteering at St. Matthew? Please read our Safe Environment Policy.