Mission:
St. Matthew Mom's Group supports the vocation of motherhood by strengthening faith through various readings including Scripture, the Catechism and various books applicable to Christian family life. Many moms find the open discussion format to be encouraging and inspiring in developing loving parenting tools and creating a solid Catholic domestic church.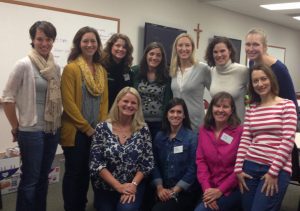 St. Matthew Mom's Group 
Meets, Thursdays through out the year from 10 am-12 pm for 5 week sessions NLC rm. 202 
March 14, 21, 28, April 11, 18
For more information, please contact Becky Lennard.
---

Join us for Brunch! 
March 7 at 10am
April 4 at 10am
May 9 at 10am
RSVP Here
You want to strengthen your spirituality, and you want to have the tools to live passionately- every single day. Welcome to Blessed is She. We are women, just like you. We are single, married, mamas, and grandmamas too!
Newsletters for St. Matthew Moms Group
Please read and enjoy.
New to volunteering at St. Matthew? Please read our Safe Environment Policy.