Mission:
St. Matthew Mom's Group supports the vocation of motherhood by strengthening faith through various readings including Scripture, the Catechism and various books applicable to Christian family life. Many moms find the open discussion format to be encouraging and inspiring in developing loving parenting tools and creating a solid Catholic domestic church.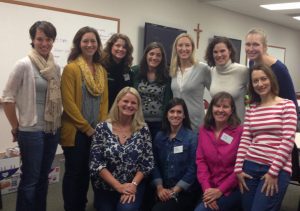 St. Matthew Mom's Group 
For more information, please contact Becky Lennard.
Make a new friend in Faith.
St. Matthew Moms Group
MOMNIPOTENT*
Eight weeks
Catherine Sforza
Thursday, 10 am to noon
Sept. 12 to Oct. 31
NLC 202
$30
Is being a mother what you thought it would be? The exhaustion, monotony, mounting unfinished projects, a loss of a sense of self… Too many moms, especially young and new moms, do in fact feel disillusioned. Maybe you feel you have been sold a bill of goods, that success and happiness are not possible through the vocation of motherhood. Many moms quietly resign themselves to the idea that success, happiness and fulfillment are things they will need to find in spite of motherhood, not because of it.
The author of Momnipotent, Danielle Bean, understands all this first-hand and meets women where they are. With great wit, wisdom, and compassion, she provides much-needed encouragement to all women and beautifully resonates with their feminine hearts.
---

Join us for Brunch! 
Thursday, September 5 
 10 am to 12 noon
Banquet Room
Childcare available with 48-hour advance registration by calling 704.543.7677 x 1003
RSVP for Brunch: becky.lennard@gmail.com
Newsletters for St. Matthew Moms Group
Please read and enjoy.
New to volunteering at St. Matthew? Please read our Safe Environment Policy.