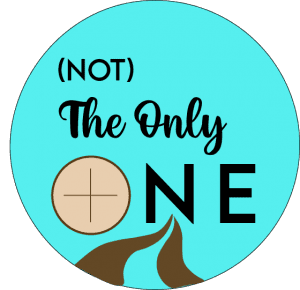 A St. Matthew podcast for teens on an open, vulnerable and Catholic journey.
Tune in on Spotify, Apple Podcast or wherever you access your favorite podcasts or access through the links below.
New episodes air every Thursday.
"(Not) The Only One" is a St. Matthew Catholic Church podcast for teens on an open, vulnerable, and Catholic journey. Each week we'll tackle a new topic and do our best to answer those questions you thought you were "the only one" that wondered about. While we walk together, let us keep our hearts focused on The One, Jesus Christ, who is with us, always. If you have questions, topic suggestions, or feedback that you'd like to share just contact us via the link below!
Follow us on Instagram: @stmatt_ym
Show Notes for Episode 003 Blessed Carlo Acutis
Show Notes for Episode 015 - Women in the Bible
"I Choose the Sky" A Scriptural Devotional for Women by Emily Wilson that guides teen through the amazing female role models in the Bible.
"Inspired" by Mark Hart, a great tool to help you read the bible
Laudate App: A Catholic tool where you can find the daily readings (including the audio version), in addition to prayers and helpful resources.
The Bible in a Year (with Fr. Mike Schmitz) Open in Spotify
Show Notes for Episode 016 - About Vocations with Fr. John
To learn more about vocations and talk to someone in the Charlotte diocese, visit Charlotte Diocese Vocations.
Remember Fr. John, Fr. Peter, and Fr. Davis are always available to chat with our young men and women who would like to know more about religious life and possibly discern.  You can contact them through office@stmatthewcatholic.org, or by calling 704.543.7677 to set up a time to talk!
Show Notes for Episode 017 - Sister Clare Crockett
Show Notes for Episode 018 - Spring Cleaning
Show Notes for Episode 020 Father Davis' Vocation Story
Show Notes for Episode 031 - In Good Company (St. Therese and St. Padre Pio)
Show Notes for Episode 032 - Seeking Holiness
Continue to learn more about the Saints! Life Teen has a great compiled list of several popular Saints and maybe some you've never heard of!
Fr. Mark-Mary Ames, CFR, host of the "Poco a Poco" Podcast, has written a brand new book with practical steps we can all take to grow in our relationship with the Lord. You can find it HERE!
Show Notes for Episode 053 - Happy New Year!
Word of the Year Resources:
New Liturgical Goal Ideas:
Show Notes for Episode 054 - Pro-Life Q&A with Fr. Peter
Looking to learn more about the pro-life movement and Church teaching?:
Looking for resources within our Charlotte community?: