---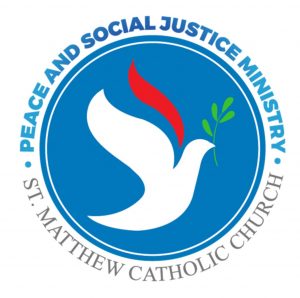 The Peace & Social Justice Ministry seeks to help parishioners see the challenges of modern society – poverty, homelessness, immigration, racism, globalization – through the lens of our Catholic faith. Grounded in the rich tradition of Catholic Social Teaching, we seek to live out the Gospel by promoting peace, living in solidarity with the poor and marginalized, and advocating for change wherever injustice exists.
Catholic Social Teaching is a central and essential element of our faith. Its roots are in the Hebrew prophets who announced God's special love for the poor and called His people to a covenant of love and justice. It is a teaching founded on the life and words of Jesus Christ, who came "to bring glad tidings to the poor . . . liberty to captives . . . recovery of sight to the blind"(Lk 4:18-19), and who identified himself with "the least of these," the hungry and the stranger (cf. Mt 25:45). Catholic social teaching is built on a commitment to the poor. This commitment arises from our experiences of Christ in the Eucharist.    — From Sharing Catholic Social Teaching : Challenges and Directions , USCCB
---
We believe … key themes of Catholic Social Teaching:
"To receive in truth the Body and Blood of Christ given up for us, we must recognize Christ in the poorest, his brethren."  – Catechism of the Catholic Church, No. 1397
For the Green Team's 50 Ways to Care for Creation article, click here.
Upcoming events will be posted in the bulletin.
New to volunteering at St. Matthew? Please read our Safe Environment Policy.