Christian Responders Ministry
Christian Responders is a St. Matthew ministry that is dedicated to helping disaster survivors after the media attention and hype has subsided; often when these survivors still need much help.
We are a truly diversified group of people with several things in common.
We enjoy helping people in need… in fact it nourishes our souls!
We like experiencing spiritual growth, attending church together, sharing our faith, learning from each other, learning from the people we serve, and being the hands and feet of Jesus.
We enjoy socialization, making new relationships, and celebrating life together.
Together we work, rest, pray, talk, laugh, eat meals, and help God's people who desperately need assistance.
---
Our Mission:
To be the hands and feet of Christ by serving people in need.
To provide opportunities for people to experience spiritual growth through service, faith sharing, worship, and related activities.
To provide people the opportunity to have a larger sense of purpose.
To provide opportunities for increased socialization and relationship building from working with and spending time with new people.
To give our young adults, teens, families and senior citizens an opportunity to serve God's people together and to make service a part of their lives.
---
Our Current Project: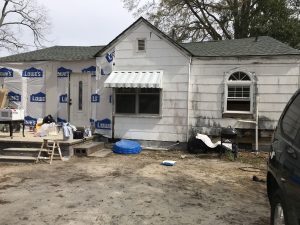 Lumberton, NC is a poverty-stricken area located approximately 120 miles from Charlotte.  The city was flooded by Hurricane Matthew in Oct 2016 followed by Hurricane Florence in 2018. Even now, many families have not been able to return to their homes.  These families do not have the means to repair their homes. The large government agencies have left, and thus, the victims of these devastating storms are dependent on volunteers and the church community.
The Christian Responders Ministry of St. Matthew Catholic Church is in partnership with the United Methodist Church in Lumberton as we work together to restore and repair the homes of hurricane flood victims so they can resume their lives.
Requirements: Must be at least 14 years of age and have a desire to help God help those in need. No experience needed!
Christian Responders will be helping our neighbors in Lumberton, NC on the following dates and welcome your assistance and fellowship!
May 17-19
August 9-11
September 13-15
October 11-13
November 15-17
---
---
Got experience? Trainers needed!
Home Improvement, Carpentry, Electrical, Flooring, Painting, Roofing, Basic Home Repair? Our volunteers are people of all ages and backgrounds that enjoy helping others.  However, many of us have no home repair experience. Your training will make a major difference in what we're able to accomplish for God and His people!
If you are interested in training or leading small groups in your area of expertise, please reach out to us at christianresponders@gmail.com or contact Joe George at 704-906-0784