Small groups are about helping people
CONNECT and GROW
in a Christian community.
Small Groups Lenten Study – More Fun with Friends!
Are you ready for a Lenten Study for your Small Group? Give this study a try; free through ENGAGE using St. Matthew Flocknote.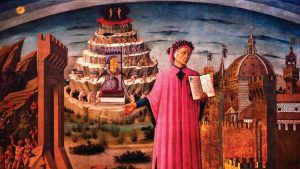 Seven Deadly Sins and Seven Lively Virtues
8 weeks (Beginning the week of February 10)
TEXT "VIRTUES" to 84576 to join this study
You can meet in your small group meeting space or virtually. (See below for tips on meeting virtually.)
Free PDF of Leader and Study Guides through wofdigital.org. You have a free membership through St. Matthew. See below for details.
Based on Dante's writings, Bishop Barron shows us how to counteract the seven deadly sins,  pride, envy, anger, sloth, gluttony, avarice and lust, through a conscious process of opposition, which are the "seven lively virtues."
The seven lively virtues offer antidotes to each sin and help set us on the right path to healing and happiness.
How to access the Seven Deadly Sins, Seven Lively Virtues Series with leader and participant guides.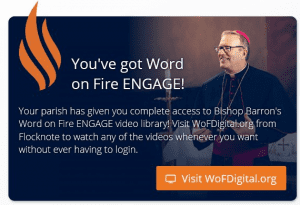 To get access to Word on Fire ENGAGE, you will need to access your Flocknote and sign-in.
To access Flocknote visit: https://stmatthewcharlotte.flocknote.com/dashboard.
Once logged in to Flocknote, click "My Dashboard" and a big banner will appear with an orange button that says "Visit WoFDigital.org." 
From there you can search through all of Bishop Barron's studies free to you from St. Matthew. Find Seven Deadly Sins and Seven Lively Virtues study. From there you have access to each video and all study materials for both leaders and participants.
Small groups are for everyone! They are generally around 5 to 12 people. Small groups often have a central book or video program that is used to foster conversation and faith-sharing. Suggestions will be provided here! 
Yes! you can still meet digitally online to stay connected. Ask us how, send an email to jstumbo@stmatthewcatholic.org. 
Follow these simple instructions to register for FORMED.
Go to formed.org/signup
Select your parish
Register with your name and email address
Check that email account for a link to begin using FORMED
Meeting with your small group using ZOOM
Watch this short video by Colin Maclver from Ascension Press to see how you too, can effectively run a virtual Small Group during quarantine.
Small Group Studies
Saints for the Month
3     St. Blaise, Bishop and Martyr & St. Ansgar, Bishop
5     St. Agatha, Virgin and Martyr
6     St. Paul Miki and Companions, Martyrs
8     St. Jerome Emiliani & St. Josephine Bakhita, Virgin
10    St. Scholastica, Virgin
22    The Chair of St. Peter the Apostle
23    St. Polycarp, Bishop and Martyr
March
3     St. Katherine Drexel, Virgin
4     St. Casimir
8     St. John of God
9     St. Frances of Rome
18    St. Cyril of Jerusalem, Bishop and Doctor of the Church
19    St. Joseph, Spouse of the Blessed Virgin Mary
23    St. Turibius of Mogrovejo, Bishop
April
13    St. Martin I, Pope and Martyr
21    St. Anselm, Bishop and Doctor of the Church
23    St. George, Martyr & St. Adalbert, Bishop and Martyr
24    St. Fidelis of Sigmaringen Priest and Martyr
28    St. Peter Chanel, Priest and Martyr & St. Louis Grignion de Montfort, Priest
29    St. Catherine of Siena, Virgin and Doctor of the Church
30    St. Pius V, Pope
May
3     Sts. Philip and James, Apostles
10    St. Damien de Veuster (of Moloka'i), Priest
12    Sts. Nereus and Achilleus, Martyrs & St. Pancras, Martyr
14    St. Matthias, Apostle
15    St. Isidore
18    St. John I, Pope and Martyr
20    St. Bernadine of Siena, Priest
21    St. Christopher Magallanes, Priest and Companions, Martyrs
22    St. Rita of Cascia, Religious
24    The Blessed Virgin Mary, Mother of the Church
25    St. Bede the Venerable, Priest and Doctor of the Church and St. Gregory VII, Pope and St. Mary Magdalene de'Pazzi, Virgin
27    St. Augustine of Canterbury, Bishop
29    St. Paul VI, Pope and Blessed Virgin Mary
Book Recomendations
Into His Likeness Be Transformed as a Disciple of Christ, by Dr. Edward Sri
Love Unveiled the Catholic Faith Explained, Dr. Edward Sri
After Suicide There's Hope for Them and For You, Chris Alar, MIC and Jason Lewis, MIC
The Gift of Peace, Personal Reflections by Joseph Cardinal Bernardin
The Case for Catholicism Answers to Classic and Contemporary Protestant Objections by Trent Horn
Understanding "Our Father" Biblical Reflections on the Lord's Prayer by Scott Hahn
The Life of Faustina Kowalska The Authorized Biography by Sister Sophia Michalenko, C.M.G.T.
Lessons from the Lives of the Saints by Father Joseph Esper
Timeless: A History of the Catholic Church by Steve Weidenkopf
The Glory of the Crusades by Steve Weidenkopf
The Real Story of Catholic History Answering Twenty Centuries of Anti-Catholic Myths by Steve Weidenkopf
Consuming the Word: The New Testament and The Eucharist in the Early Church by Scott Hahn
The Fourth Cup: Unveiling the Mystery of the Last Supper and the Cross by Scott Hahn
The Creed: Professing the Faith Through the Ages by Scott Hahn
It is Right and Just by Scott Hahn and Brandon McGinley
The Adventure of Discipleship by Daniel A. Keating
Walk in Her Sandals Experiencing Christ's Passion through the Eyes of Women, edited by Kelly M. Wahlquist
Check back each month for new content on saints, prayers, book recommendations, and bible studies we share with you to help you and your small groups foster, grow and fellowship a deeper more meaningful relationship with Christ and each other. For inquiries regarding small groups; please contact Judy Stumbo, at jstumbo@stmatthewcatholic.org.
Ten Tips for Small Groups
Pick a book or video series that challenges you to think and ask questions.
Agree on an attainable amount of weekly content.
Come open-minded.
Let people finish their thoughts – even if it takes them a minute or two to unpack them.
Put your phones in the middle of the table, face down and silent.
Let the conversation flow – try not to hog the topic.
Make your point once, and engage on peoples' reactions to your point.
If you don't understand someone's point, ask!
Don't be afraid to speak up!
Find at least 1 thing from each book that challenged you and made you think in a different way and apply that to your life.
Small groups are a great way to grow in faith and become part of a small Christian community. For many years, we have had small groups during Lent. This year, groups have two options, a web based option and a book based option. If you have previously been in a Lenten group, check with your host to see if you will meet.
Interested in learning more about Small Groups?
Email Judy at jstumbo@stmatthewcatholic.org.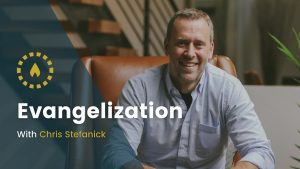 There are 3 easy steps for new parishioners to Sign Up on FORMED:
Visit http://signup.formed.org/
Enter our parish zip or name
Enter your name and email
FORMED.org Series:
Evangelization with Chris Stefanick
We are all on a mission. Do you know what it is? Have you planned the goals and oriented your life to achieve it? Pope Paul VI famously said, "the Church exists to evangelize."
In the opening Chapter of Chris' course of Evangelization, we'll cover the importance of keeping focused on the main thing: Jesus Christ.