Adult Faith Formation/St. Matthew yoUniversity (SMU)
Mission: St. Matthew yoUniversity seeks to invite all adults to grow in their Catholic faith into full Christian maturity. Faith Formation is a life-long process. SMU strives to provide relevant, meaningful educational and spiritual programs for adults of all ages. By incorporating teaching, community and prayer in all that we do, we hope to nurture and support a deep, growing, personal relationship with Jesus and his Church in all those we serve.
Please look through the list and click on a class title to register online with a credit card.  Scroll below this listing to find class descriptions.
Click on the blue class titles to register online with a credit card.  Paper registration (exact cash or check only) can be downloaded HERE and either brought to or mailed to the Church office.
Mailing address:
St. Matthew Catholic Church
Attn: Adult FF Registration
PO Box 49349
Charlotte, NC 28277
---
TALE OF A HOLOCAUST SURVIVOR*
Suly Chenkin
Thursday, March 12
7 pm
NLC Banquet Room
RSVP required by March 10; click on the title above. 
No fee
Suly Chenkin was born in Kovno, Lithuania. Her story begins and ends with a prophecy uttered by her grandmother at the moment she was born. "This child" she said, "because she was born on the first day of the Jewish New Year, will be lucky her entire life." Six months later the Nazis invaded Lithuania and the word "luck" disappeared for Jewish people living in that country. In 1944 her parents smuggled her out of the Kovno ghetto in a potato sack, into the waiting arms of a stranger. The story of her survival puts a human face on an unimaginable time in Jewish history and leaves us asking, "Who is my neighbor?"
The Stan Greenspon Center for Peace and Social Justice at Queens University is committed to educating the community about the importance of remembering the past to create a better future for all God's people. No event in modern history highlights more effectively the dangers of indifference in the face of hatred and discrimination than the Holocaust. To learn more, or to make a donation, please go to StanGreensponCenter.Org or email Talia Goldman at GoldmanT@Queens.Edu
SCRIPTURE STUDIES
CATHOLIC SCRIPTURE STUDY PRESENTS: LENT CYCLE A: THE ROAD TO REDEMPTION*
Six weeks
Terry DeMao
Tuesdays, Feb. 25 to March 31 
9:50 to 11:50 am – FILLED
NLC 239/240/241
$20
NEW: Evening Session offered! Click HERE for evening session
Six weeks
Terry DeMao
Wednesdays, Feb. 26 to April 1
7 to 9 pm
NLC 132/125
$20
Join Fr. Mitch Pacwa, SJ during the six-week video series helping to prepare ourselves for the coming of Christ! Are we ready for the King? Are our hearts ready to accept the passion of our Lord so that we may share in his glorious Resurrection? The six weeks leading up to Easter mark our own 40 days in the desert with Jesus. Lent is an intense time of prayer, fasting and almsgiving for the entire Church.
The study follows the Catholic Scripture Study format, but concentrates on the Sunday lectionary readings and incorporates the ancient method of Lectio Divina (praying the scriptures). Lectio Divina is a powerful way to 'hear' God speaking to us personally through scripture.
UNLOCKING THE MYSTERIES OF THE BIBLE*
Eight weeks
Katie Dunne Knoefel
Tuesday, March 24 to May 19
6:30 to 8:00 pm
$25
$15 Discount for Catechist or MACS teacher/staff
Waxhaw Offering!
A quick journey through the Bible. Many people want to read the Bible because they know it is God's Word but give up because it is so complicated. The Unlocking the Mystery of the Bible study program helps you to get the "big picture" of the Bible by showing how fourteen narrative books of the Bible tell the complete story from Adam and Eve to Christ and the Church.
CATHOLICISM CLASSES
DAVID: OUTLAW KING OF ISRAEL* 
Four weeks
David Hoffman, Ph.D.
Wednesdays, May 6 to May 27
7 to 9pm
NLC 234/235
$30
Dr. Dean Hoffman presents an exploration of the young shepherd-minstrel who defeated the Philistine champion Goliath and with his band of rebels united the twelve tribes of Israel, only to fall from grace and suffer his own rebellion from among his rival prince sons.
BIBLICAL WALK THROUGH THE MASS*
Five Weeks
Karen Geiger
Tuesdays, March 24 to April 21
7 to 8:30pm
NLC 203
$20
Based on the revised translation of the Mass, this five-part program takes participants on an exciting tour of the Liturgy as it explores the biblical roots of the words and gestures we experience at Mass and explains their profound significance. See, perhaps for the first time, why we say what we say and do what we do every week at Mass. The words and gestures will be seen in a new light, giving new life to the liturgical experience.
In this study, Catholics will…
• Learn the biblical background to the words, prayers, and gestures of the Liturgy, all in the context of the revised Mass translation.
• Discover how the Mass is a "true re-presentation" of Christ's redeeming sacrifice on the cross.
• Explore the three key aspects of the Mass as a Sacrifice, Real Presence, and Holy Communion.
NO GREATER LOVE A BIBLICAL WALK THROUGH CHRIST'S PASSION* – FILLED
Five weeks
Jane Brock, M.Div.
Mondays, 3/2, 3/9, 3/16,  3/23, 3/30
7 to 8:30pm
NLC 234/235
$25
Walk step-by-step with Jesus from the Garden of Gethsemane to the Mount of Calvary. Every step of the way, biblical experts reveal how Old Testament prophecies, messianic expectations, biblical symbolism, and historical context shed light on the mystery of Christ's suffering and death.
In this study, Catholics discover
• The Biblical background to each scene in Christ's passion.
• What was Jesus going through at each moment?
• How did the Old Testament foretell of Christ's death?
• Why did Christ die for us? What did it accomplish?
• What was the meaning behind of the tearing of the temple veil, the crowing with thorns, and other events during Christ's Passion?
Edward Sri also unpacks commonly misunderstood sayings of Jesus such as…
• "Father, if it be possible, let this cup pass?" – Was Jesus thinking of backing out at the last minute?
• "My God, my God why have you abandoned me?" – Was Jesus really abandoned by the Father on the cross?
• "you have said so." – What does that mean?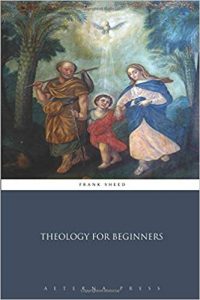 Theology 101*
Eight weeks
Father Peter Ascik
Rachel Willoughby
Tuesday, Jan. 28
7 to 8:30 PM
$10 with book
Free without book
NLC Banquet Room
You can access the audiobook through FORMED.org here.
A short class based on Frank Sheed's book, Theology for Beginners. Come learn and discuss some of the basic tenets of our faith with Fr. Peter Ascik and Rachel Willoughby.
"Knowledge serves love – it can turn sour of course and serve pride or conceit and not love, and against this we poor sons of Eve must be on our guard. Knowledge does serve love. It serves love in one way by removing misunderstandings which are in the way of love, which at best blunt love's edge a little… each new thing learned and meditated about God is a new reason for loving Him." (from chapter 1 of Theology for Beginners by Frank Sheed)
PERSONAL DEVELOPMENT
DIGITAL FAITH* (no registration for this class, just come!)
April 28
7 to 8:45 pm
NLC -Banquet room
No fee, just come!
LIVING YOUR STRENGTHS*
Six weeks
Choose one session   $20:
Tuesday, 1:30 to 3 pm
Feb. 25 to March 31
NLC 208
Wednesday, 10 to 11:30 am
Feb. 26 to April 1
NLC 208
Thursday, 7 to 8:30pm – FILLED
Feb. 27 to April 2
NLC 208
Strengths Exploration is a six-week, 90 minutes per week, small-group program designed to help you discover your God-given talents and begin to shift your focus away from fixing your weaknesses. Participants learn to start spending time and energy on doing more of what they are good at doing. With the guidance of trained facilitators, groups begin by exploring each individual's CliftonStrenghts top talent themes – their regular patterns of behavior – and determine how to apply these talents in their personal, professional and spiritual lives to fulfill God's purpose for each. Positive and uplifting.
POWER OF CALM RAISING YOUR KIDS BY KEEPING YOUR COOL*
Five weeks
Jenny Cox, MA, LMFT
Mondays, April 20 to May 18
7 to 9 pm
NLC 234/235
$10 per person
Emotional reactivity is behind every bad pattern, bad decision and bad relationship. Whenever we get reactive, whether by screaming, cutting ourselves off, overcompensating for others, or taking things personally, we operate out of our anxiety and not from our values. The Power of Calm is based on the popular ScreamFree Parenting program which teaches us how to calm down, grow up and get closer to the ones we love. This is a revolutionary approach that invites parents of all ages (with kids of all ages) to focus on themselves, press the "pause button" on emotion, and create close, meaningful family relationships. Created by marriage and family therapist, author and speaker Hal Runkel, ScreamFree parenting has helped millions of parents create a calmer household with more cooperation and respect.
---
Online registration with credit card is offered by clicking on the titles; but also in person registration in the office with check or cash only is accepted.  (credit card is online only.)
Mail in a registration. 
St. Matthew Catholic Church
Attn: Adult FF Registration
P.O. Box 49349
Charlotte, NC 28277
---
Peace and Social Justice
Click here to go to Peace and Social Justice page
PRAYER GROUPS (Ongoing)
Lectio Divina* 
Sister Mary Hugh Mauldin, RSM, MA
Wednesdays, 9:30 to 10:45 am
NLC 234/235
No registration; simply come when you can. Lectio Divina is an ancient community prayer form using the upcoming Sunday Mass readings, providing Scriptural enrichment and community building. Please bring your bible.
Centering Prayer
In a busy world, a time for silence is a rare experience. However, authentic spirituality always embraces silent time with God. Centering Prayer is a practice that invites us to be present to God as God is present to us. It is a process that transforms us and brings inner peace into our lies.
Please contact Janie Normile at normilejgm@gmail.com 
---
KEY:
*Child care is available with 48-hour advance registration to the nursery. Call 704-543-7677 x 1003.
Click on the link below to get a map and directions to both St. Matthew Ballantyne and St. Matthew -Waxhaw location.
For more information contact Rachel Willoughby 704-543-7677 x 1020.
New to volunteering at St. Matthew? Please read our Safe Environment Policy.