Adult Faith Formation/St. Matthew University (SMU)
Mission: St. Matthew yoUniversity seeks to invite all adults to grow in their Catholic faith into full Christian maturity. Faith Formation is a life-long process. SMU strives to provide relevant, meaningful educational and spiritual programs for adults of all ages. By incorporating teaching, community and prayer in all that we do, we hope to nurture and support a deep, growing, personal relationship with Jesus and his Church in all those we serve.
New to St. Matthew, the surrounding community or both, be sure to join Moving On After Moving In:
Moving On After Moving In
Nine weeks – Ballantyne
Aug. 25 to Oct. 20
9:30 to 11 am
NLC 239-241
$20
We welcome ladies new to the area and invite you to join our upcoming nine-week study of God's role and love in the process of your moving transition. Meet other women new to the area, share challenging and funny stories, all while being encouraged and embraced by our team. Based on the book, After the Boxes are Unpacked: Moving On After Moving In by Susan Miller, this ministry is designed to enfold, encourage and engage women who are new to the community or to St. Matthew or both. It serves as a vehicle for personal, spiritual and communal support and growth.
To register for a class online with a credit card: Simply "CLICK" on the blue title of the class to register through Faith Direct. You do not need to be registered on Faith Direct to register for your desired class registration. Should you run into a problem using Faith Direct, which happens occasionally, please contact Faith Direct directly so they can assist you completing your registration. Otherwise, a paper registration can be completed in the Church office with your check attached.
"The Word of God is given to us as the Word of life, which transforms, renews, and does not judge in order to condemn, but heals and has forgiveness as its aim. A Word that is light for our steps!"
Pope Francis, Twitter.com; June 22, 2020
Grow in your knowledge and love of God and His Church by taking one of our classes or Bible studies.
33 Days to Morning Glory by Father Michael Gaitley from Legion of Mary
Acts of the Apostles from Catholic Scripture Study
An Introduction to the Theology of the Body: Discovering the Master Plan for Your Life
Genesis to Jesus
Living Your Strengths (LYS)
Matthew: The King and His Kingdom
Moving On After Moving In
Oremus: A Guide to Catholic Prayer
Prayers for the Holy Souls in Purgatory
Untold Blessing – Three Paths to Holiness by Bishop Robert Barron
Save the dates & watch for upcoming registrations –
Christ Renews His Parish – Women's Oct. 22 & 23, Men's Nov. 5 & 6 (CRHP Registration HERE)
Divine Mercy – Day of Healing, Saturday, Oct. 2
---
---
Fall 2021 SMU Classes –
This study is designed to give you a solid understanding of God's plan for humanity. It addresses the two most fundamental and universal questions:
1. What does it mean to be made human, male and female, in the image and likeness of God?
2. How can I live my life in a way that brings happiness and fulfillment?
This study is for every "body" who desires to reach their full potential in this life.
Matthew: The King and His Kingdom shows how Jesus fulfills God's promises to Israel and establishes His kingdom on earth. Through references to the Old Testament promises of God to His people and the messages God sent them through the prophets, this Bible study provides the key to understanding the rest of the New Testament and Christ as the fulfillment of God's plan.
Matthew portrays Jesus as the true King who fulfills the Law the people of Israel have failed to keep and who introduces the new law that will accompany the New Covenant. In this 24-part study of Matthew's Gospel, Jeff Cavins explains how Jesus is challenging and empowering us to a new level of holiness and shows how we must be thoroughly immersed in the kingdom of heaven on earth, the Church, to live it.
Do you find it easy to pray? Do you hear God's voice in your daily life and know how to respond? For most of us the answer is no, and we struggle to find even a few minutes every day to pray. The good news is that you can overcome these difficulties. Oremus teaches you the essentials of an effective and fruitful prayer life. Over eight weeks you will learn the simple yet profound steps of Catholic prayer. Following Church tradition and the wisdom of the saints, you will learn to talk to God and hear His voice in Scripture, in your heart, and in ordinary moments. You will become more aware of His close presence, will learn to overcome distractions and dryness, and will recognize desolation and consolation as normal prayer experiences. As you grow closer to God, you will also grow in your relationship with those around you.
GENESIS TO JESUS
Christine Corbly
12 weeks –Waxhaw
Wednesdays, Sept. 22 to Dec. 15
10 am to noon
Waxhaw
$25
What is the Bible, where does it come from, and what is its purpose? How are Catholics supposed to read the Bible, and what story does it tell? These are the ever-important questions answered in Genesis to Jesus. Join us to learn the basic Catholic principles for reading Scripture and to survey the broad outlines of the books of the Bible and their place in the story of salvation. Not included in course materials, but available to purchase on your own are supplemental readings: A Father Who Keeps His Promises, the Bible, the Catechism of the Catholic Church, and Dei Verbum.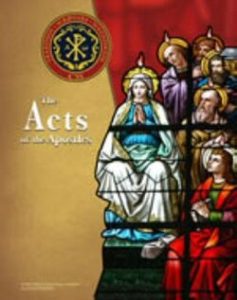 Catholic Scripture Study Presents:
ACTS OF THE APOSTLES
Terry DeMao
28 weeks -Ballantyne
Tuesdays, Sept. 28 to May 10
9:50 am to noon
NLC 239/240/241
$50
The Acts of the Apostles is the first history of the Church, and as such, merits a study as careful as it is well-researched. Luke's motive in writing this book was very simple: to defend and teach the new faith in a beautiful work of apologetics.
Steve Ray and Msgr. Patrick Winslow are your guides on this 1,000+ verse journey into the hearts and minds of the early Christians. Harmonizing history, theology, and eternal truth, St. Luke's witness is a stirring invitation to follow the one he followed—the one who brought death to its knees.
You will learn the following by taking this course.
• How the Apostles' message of repentance is just as vital for us today
• Why the Church was able to survive brutal, constant persecutions
• How we can be filled with the same Holy Spirit that inspired Peter, Paul, and all the early Christians
The Acts of the Apostles are the acts of those with hearts on fire. We are called to the same fearless love, no matter what challenges or persecutions come our way. Let Steve Ray and Msgr. Winslow unpack this story of hope for you, and let your heart beat with the same fervor that inspired the first Christians.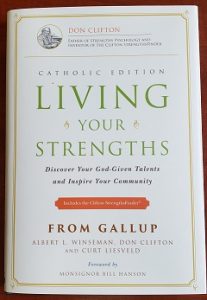 Living Your Strengths
Six weeks – Ballantyne
$20
Choice of afternoon or evening class; choose one.
Tuesday, 1:30 to 3 pm
(10/5, 10/12, 10/19, 10/26, 11/2, 11/9)
Thursday, 7 to 8:30 pm
(10/7, 10/14, 10/21, 10/28, 11/4, 11/11)
Living Your Strengths
Strengths Exploration is a six-week, 90 minutes per wee, small-group program designed to Help you discover your God-given talents and begin to shift your focus away from fixing your weaknesses to sharing your strengths. Participants learn to start spending time and energy on doing more of what they are good at doing. With the guidance of trained facilitators, groups begin by exploring each individual's CliftonStrengths top talent themes – their regular patterns of behavior- and determine how to apply these talents in their personal, professional and spiritual lives to fulfill God's purpose for each. Strengths Exploration is positive and uplifting.
All of us are called to be holy. The Greek Fathers of the Church taught that the entire purpose of the Christian life was to make us, not simply better people, but conformed to participation in the life of the Trinity. Of course, we need God's grace to become holy but there are three paths or journeys that all must take to reach this goal.
Bishop Barron paints a beautiful and mysterious image of what it takes to be a follower of Jesus Christ. He lays out three intriguing paths to holiness:
1. Finding the Center
2. Knowing You're A Sinner
3. Realizing Your Life is Not About You
He also shares practical approaches to enhance the journey along these three paths. Untold Blessing: The Three Paths to Holiness provides an insightful guide as you walk "The Way."
Father Michael Gaitley invites you to take hold of our holy Mother's hand as she guides you on your spiritual journey. Blessings abound when we give ourselves to Mary in total trust as she brings us to the very heart of Jesus. Through this study, Father Gaitley shares the stories of St. Louis de Montfort, St. Maximillian Kolbe, St. Teresa of Calcutta, and St. John Paul II and their love for Mary, and explains how this relationship changed their lives and intensified their love for our Triune God.

Come learn what it means and how to pray for the Holy Souls in purgatory.
GOD IS NOT ANGRY AT YOU:UNDERSTANDING THE FATHER'S LOVE AND OVERCOMING FEAR
Listen to the talk below.
In the great tradition of the Church, God is understood as Love Itself, a Father who sent his Son to rescue humanity and bring it back to his heart. Yet through the centuries, the Father has come to be known at times as angry, remote and untrustworthy. This illustrated lecture will introduce a biblical and liturgical understanding of both God's love and his justice to help our Lenten practices of conversion and discipline might be understood as a delightful movement toward his loving Heart.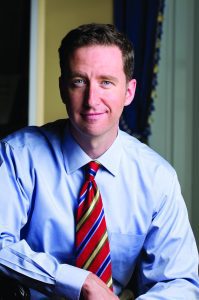 Bio for Dr. Denis McNamara
Dr. Denis McNamara is Associate Professor and Executive Director of the Center for Beauty and Culture at Benedictine College, a position he began in the Fall of 2019.
He holds a BA in the History of Art from Yale University and a PhD in Architectural History from the University of Virginia, where he concentrated his research on the study of ecclesiastical architecture with Richard Guy Wilson and Carroll William Westfall.
From 2000 to 2019 he was a faculty member at the Liturgical Institute of the University of Saint Mary of the Lake, a graduate program in Liturgical Studies founded by Cardinal Francis George of Chicago. He served as Associate Professor of Sacramental Aesthetics, Academic Director, Liturgy Director, Music Director, and taught courses on the Liturgical Movement, Liturgical Art and Architecture, Liturgical Inculturation, The Liturgical Year, Liturgical Music and Sacramental Aesthetics.
Dr. McNamara makes a specialty of bridging the gap between the Church's great artistic tradition and the documents of the Second Vatican Council. He has also done groundbreaking research on scriptural understandings of architecture and the sacramental meaning of the classical architectural tradition.
Dr. McNamara is the author of numerous articles on art, architecture, theology and culture in Communio, Rite, Chicago Studies, Sacred Architecture, Environment and Art Letter, Assembly, The Priest, Homiletic and Pastoral Review, Sacred Architecture, Letter and Spirit, The Classicist, the Word on Fire Institute Journal and Arris: Journal of the Society of Architectural Historians. He is a regular contributor on topics of church architecture to the Adoremus Bulletin.
His book Heavenly City: The Architectural Tradition of Catholic Chicago (Liturgy Training Publications, 2005) appeared on the Catholic Bestseller List and won a Benjamin Franklin Award from the Independent Booksellers Association as well as two first place awards from the Midwest Independent Publishers Association. His 2009 book Catholic Church Architecture and the Spirit of the Liturgy (Hillenbrand Books), was honored in two categories by the Catholic Press Association and his How to Read Churches: A Crash Course In Christian Architecture (Rizzoli, 2011; 2017) was published in eight languages.
He has served on the Art and Architecture Commission of the Archdiocese of Chicago and works frequently with architects and pastors in church renovations and new design.
He has appeared on Catholic and secular television and radio and is a frequent presenter in academic as well as parish settings. and is co-host of a podcast on the sacred liturgy called "The Liturgy Guys," which won "Best Podcast" from Fisher's Net in 2017.
He has served as a juror at the schools of architecture at the University of Notre Dame, The Catholic University of American and Benedictine College, and was invited to the Diocese of Christchurch, New Zealand, to educate and consult on the reconstruction of the diocese's cathedral and parishes after two major earthquakes severely damaged the city's historic buildings.
Special note regarding childcare for the SMU classes:
Childcare is not being offered for Adult Faith Formation classes until further notice.
---
Click on the link below to get a map and directions to both St. Matthew Ballantyne and St. Matthew -Waxhaw location.
---
For more information contact
Rachel Willoughby
704-543-7677 x 1020.
---
New to volunteering at St. Matthew? Please read our
Safe Environment Policy
.