Adult Faith Formation/St. Matthew yoUniversity (SMU)
Mission: St. Matthew yoUniversity seeks to invite all adults to grow in their Catholic faith into full Christian maturity. Faith Formation is a life-long process. SMU strives to provide relevant, meaningful educational and spiritual programs for adults of all ages. By incorporating teaching, community and prayer in all that we do, we hope to nurture and support a deep, growing, personal relationship with Jesus and his Church in all those we serve.
SMU – Winter Spring 2021 & Summer 2021 classes



Slowly and with prayer, our in-person classes are returning. We ask at this time you continue to wear a mask whenever you are on the St. Matthew campus and continue to keep a social distance. 
Click on the title of the class to register through Faith Direct. You do not need to be registered on Faith Direct to register for your desired class registration. Should you run into a problem using Faith Direct, which happens occasionally, please contact Faith Direct directly so they can assist you completing your registration. Otherwise, a paper registration can be completed in the Church office with your check attached.
Due to COVID – 19, We are completely thankful and with sincere gratitude that several of our facilitators have offered their time for virtual learning. Please take an opportunity to grow, connect and deepen your relationship with Christ by taking one of our extraordinary classes.
"The Word of God is given to us as the Word of life, which transforms, renews, and does not judge in order to condemn, but heals and has forgiveness as its aim. A Word that is light for our steps!"
Pope Francis, Twitter.com; June 22, 2020
Grow in your knowledge and love of God and His Church by taking one of our classes or Bible studies. Currently, we are offering:
Romans: The Gospel of Salvation(In-Person)
Made for Community: An Introduction to Catholic Social Teaching (In-Person)
The Theology of Beauty and the Sacred Liturgy by Dr. Denis McNamara (In-Person)
Credo: The Christian Moral Life (Virtual)
Pivotal Players by Bishop Barron (In-Person)
Romans: The Gospel of Salvation
8 weeks
Jane Brock, M.Div.
Mondays, 9:30 to 11:30 am
April 12 to June 7
NLC – Banquet Room (In person, please wear your mask.)
$30
Discover What It Means to "Be Saved"
Paul's letter to the Romans has been at the center of reflection, conversion, and controversy from the time it was written. Presented by Andrew Swafford and Jeff Cavins, Romans: The Gospel of Salvation provides an authentically Catholic, comprehensive, and simple way to understand the overarching theme of Romans – salvation. This fascinating book reveals that salvation is not merely the removal of a guilty verdict; it is about entering into Christ's life, death, and resurrection and sharing in his divine life.
In Jesus Christ, all the hopes and expectations of Israel are fulfilled, leading to the universal ("catholic") family of God. Romans: The Gospel of Salvation will help you to make sense of the difficult passages regarding faith, works of the law, and justification. Above all, it will help you to enter into a more meaningful relationship with Christ.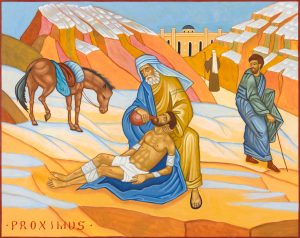 Made for Community: An Introduction to Catholic Social Teaching
9 weeks
Father Peter Ascik, Rachel Willoughby and Dr. David Glasow
Wednesdays, April 14 to June 14
7 to 9 pm
Banquet Room
No Fee, please register
Book References for this class:
Class readings will come from this book.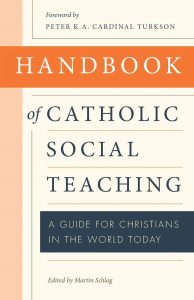 Handbook of Catholic Social Teaching: A Guide for Christians in the World Today
This is an overview of Catholic Social Teaching set up in question and answer format. Recommended readings for each week will be taken from here.
A great secondary resource: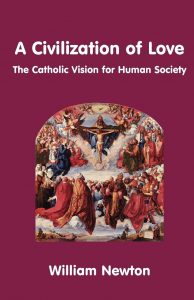 A Civilization of Love; The Catholic Vision for Human Society.
Written by a professor with a real talent for breaking down complex topics into their simple and understandable elements, this book is an overview of Catholic Social Teaching in layman's terms. Covering topics from family to work to the international community to the environment, Dr. Newton guides the reader through the complex details to the simple themes that are the foundation of a happy and healthy society.
"To teach and to spread her social doctrine pertains to the Church's evangelizing mission and is an essential part of the Christian message…" (Centessimus Annus, 5)
Pope St. John Paul II has two things to say about the social teaching of the Catholic Church: it is essential and it is evangelical. The social teaching of the Catholic Church helps us understand who we are and how we are to relate to one another. How do we answer the perennial question: Lord, who is my neighbor? Jesus answered this question with the story of the Good Samaritan. How do we see our world today through the eyes of the Good Samaritan? Created for community, it is essential that we spend some time contemplating the goods and structures of societies. It is precisely because it is so essential, affecting every aspect of our worldly lives, that the social teaching of the Catholic church is such fertile ground for evangelization. We pray for the earth to be made like the kingdom of heaven daily in the Our Father. Through its social teaching, the Church works toward this reality.
Through these nine weeks of Catholic Social Teaching, we will work through the approach of the Catholic Church to some of the major questions of our times, encounter some heroes of recent history who lived these principles well, and hopefully leave more inspired to live out these principles ourselves.
"The Church, in fact, has something to say about specific human situations, both individual and communal, national and international." (Centessimus Annus, 5)
Join us on Wednesday, April 14 to find out what it is.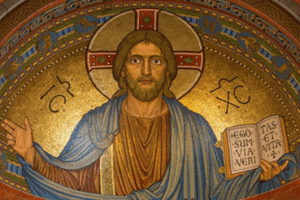 Every sacrament of the Church involves encounters with the things of heaven, bringing aesthetic knowledge of things outside of the natural realm through earthly matter, leading to the concept of "sacramental aesthetics." This course investigates the theological concept of beauty in the classical realist tradition, defining beauty as the revelation of the nature of things as understood in the mind of God, which in turn leads to investigation of the Truth of things. Dr. McNamara will explain beauty as it is understood in the West, influenced by Thomas Aquinas, and as in the East, in the tradition of iconography, giving understanding to the nature of the Sacred Liturgy as a beautiful revelation of God's own self to His creatures.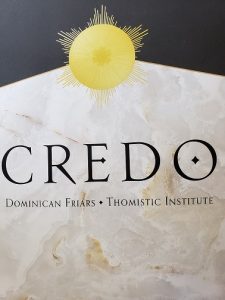 This third section of Credo is on the Christian Moral Life.
In Matthew's Gospel, we hear the story of the rich young man who came to Jesus asking, "Teacher, what good deed must I do, to have eternal life?" And [Jesus] said to him, "why do you ask me about what is good? One there is who is good. If you would enter life, keep the commandments."(Matthew 19:16-17) The question of how to live in order to attain salvation has been the constant refrain of man's life since the first moments after the Fall. In this study we will learn about how we are to live in this life in order to attain perfect happiness in the next. "Salvation is offered to us through the life and death of Jesus Christ. The moral life is therefore about union with Christ and allowing him to lift us into the divine life. But because we are free creatures, such a union must be voluntary, and in this voluntary act of uniting ourselves to Christ, we choose to live a sound moral life that leads to our ultimate happiness – the beatific vision." (an extract from Credo, Chapter 17)
Bartolomé de las Casas
Fulton J. Sheen
PIVOTAL PLAYERS BY BISHOP BARRON
Charlie Knatz
Four weeks (In-Person)
Thursdays
July 8 to July 29
7 to 8:45 pm
no fee, please register.
In this four week limited Pivotal Players class, we will focus on one person each week. Come learn why each one has a 'known by' name.
Bartolomé de las Casas
Fulton J. Sheen
Saint Francis of Assisi
Michelangelo
Saint Francis of Assisi
Michelangelo
Bartolomé de las Casas - The Activist
Bartolomé de las Casas is one of the most powerfully prophetic figures in the history of the Catholic Church. A witness to the terrible destruction of the indigenous peoples of the newly discovered Americas, he became a thorn in the side of the complacent, passionately advocating for human dignity and courageously speaking  out against injustice. Las Casas anticipated modern social and political movements by hundreds of years, and vividly reminds us today that a commitment to justice is an essential dimension of Christian discipleship.
Venerable Fulton J. Sheen - The Communicator
Fulton J. Sheen as an infant wailed for his first 3 years of life. Grown, Sheen tore up his scholarship for a Ph.D. program, as he believed the Lord wanted him to go straight into the seminary. He was and impeccable scholar earning an agrege degree with highest honors! Venerable Fulton Sheen won two Emmy's for 'Most Outstanding Television' personality for the program he hosted, "Life is Worth Living" in the 1950's even beating out popular entertainers of that period. He had over 30 million viewers. His life was lived with Christ as the summit of every day. Even during a time of imprisonment and communism, Fulton J. Sheen never let a day pass without a Eucharistic Holy Hour. One of Sheen's most important lessons about the Eucharist, taught through his preaching and his own example, was that we are to know Christ rather than simple knowing about Christ.
"If you know Christ, it does not matter if you know nothing else;
but if you know not Christ, it is as nothing to know everything else."
Saint Francis of Assisi - The Reformer
Saint Francis of Assisi abandoned a life of luxury, partying, drinking, fine foods, wine, breaking curfew and wild nights to a life of poverty after hearing the words: "Rebuild my Church!" That is the mission Christ gave to St. Francis and it is the perennial talk of the Church in every age of its life. But how is the reform and renewal of the Church to be accomplished? Francis set out on a mission to restore the church of Christ and renew the lives of the faithful through embracing poverty and abandonment to Divine Providence that had eroded. Bringing twelve followers listening the Francis' sermons and joining in his way of life they became known as the Franciscan friars.
Michelangelo - The Artist
How does Michelangelo fit into the threshold of theologians like Thomas Aquinas, St. Alphonsus Liguori, St. John Damascene, St. John of the Cross, St. Albert the Great, or St. Teresa of Avila? Michelangelo, the master of sculpture and painting has not been given the title of Saint as the privileged representative of the creative potential engendered by the Catholic Faith. The Church professes that beauty is a means of encountering the living God, and through humanity's creative artistry we glimpse his imitation of the Divine Creator.
---
GOD IS NOT ANGRY AT YOU:UNDERSTANDING THE FATHER'S LOVE AND OVERCOMING FEAR
Listen to the talk below.
In the great tradition of the Church, God is understood as Love Itself, a Father who sent his Son to rescue humanity and bring it back to his heart. Yet through the centuries, the Father has come to be known at times as angry, remote and untrustworthy. This illustrated lecture will introduce a biblical and liturgical understanding of both God's love and his justice to help our Lenten practices of conversion and discipline might be understood as a delightful movement toward his loving Heart.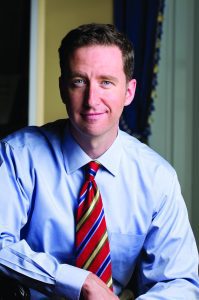 Bio for Dr. Denis McNamara
Dr. Denis McNamara is Associate Professor and Executive Director of the Center for Beauty and Culture at Benedictine College, a position he began in the Fall of 2019.
He holds a BA in the History of Art from Yale University and a PhD in Architectural History from the University of Virginia, where he concentrated his research on the study of ecclesiastical architecture with Richard Guy Wilson and Carroll William Westfall.
From 2000 to 2019 he was a faculty member at the Liturgical Institute of the University of Saint Mary of the Lake, a graduate program in Liturgical Studies founded by Cardinal Francis George of Chicago. He served as Associate Professor of Sacramental Aesthetics, Academic Director, Liturgy Director, Music Director, and taught courses on the Liturgical Movement, Liturgical Art and Architecture, Liturgical Inculturation, The Liturgical Year, Liturgical Music and Sacramental Aesthetics.
Dr. McNamara makes a specialty of bridging the gap between the Church's great artistic tradition and the documents of the Second Vatican Council. He has also done groundbreaking research on scriptural understandings of architecture and the sacramental meaning of the classical architectural tradition.
Dr. McNamara is the author of numerous articles on art, architecture, theology and culture in Communio, Rite, Chicago Studies, Sacred Architecture, Environment and Art Letter, Assembly, The Priest, Homiletic and Pastoral Review, Sacred Architecture, Letter and Spirit, The Classicist, the Word on Fire Institute Journal and Arris: Journal of the Society of Architectural Historians. He is a regular contributor on topics of church architecture to the Adoremus Bulletin.
His book Heavenly City: The Architectural Tradition of Catholic Chicago (Liturgy Training Publications, 2005) appeared on the Catholic Bestseller List and won a Benjamin Franklin Award from the Independent Booksellers Association as well as two first place awards from the Midwest Independent Publishers Association. His 2009 book Catholic Church Architecture and the Spirit of the Liturgy (Hillenbrand Books), was honored in two categories by the Catholic Press Association and his How to Read Churches: A Crash Course In Christian Architecture (Rizzoli, 2011; 2017) was published in eight languages.
He has served on the Art and Architecture Commission of the Archdiocese of Chicago and works frequently with architects and pastors in church renovations and new design.
He has appeared on Catholic and secular television and radio and is a frequent presenter in academic as well as parish settings. and is co-host of a podcast on the sacred liturgy called "The Liturgy Guys," which won "Best Podcast" from Fisher's Net in 2017.
He has served as a juror at the schools of architecture at the University of Notre Dame, The Catholic University of American and Benedictine College, and was invited to the Diocese of Christchurch, New Zealand, to educate and consult on the reconstruction of the diocese's cathedral and parishes after two major earthquakes severely damaged the city's historic buildings.
Special note regarding SMU Winter and Spring 2021:
Childcare will not be offered until further notice. Unfortunately, children will not be allowed to accompany their parents in the classrooms due to the need to social distance.
For now, there will be no food served during any classes and we ask you refrain from bringing food. Please feel free to bring your own coffee cup, water or beverage of your liking.
---
Click on the link below to get a map and directions to both St. Matthew Ballantyne and St. Matthew -Waxhaw location.
---
For more information contact
Rachel Willoughby
704-543-7677 x 1020.
---
New to volunteering at St. Matthew? Please read our
Safe Environment Policy
.