High School Youth Ministry
Our program is committed to providing our teens with the best possible opportunities for personal and spiritual growth through catechesis (religious education), fellowship, service, outreach, and leadership.
SUNDAY, JULY 26 – Be the Hands and Feet of Christ
This Sunday, join us for an awesome opportunity to help others! Make zip-lock bag lunches-to-go with your family and drop them off at St. Matt's anytime between 10:00-11:30am Sunday morning. More instructions on what to include in each lunch and drop-off included in the sign up! Let's be the hands and feet of Christ and help give back to our homeless community right here in Charlotte. I look forward to seeing your beautiful faces and praying together. 
COMING UP THE WEEK OF JULY 26:
For all zoom links, contact Lauren
SUNDAY LIFE "MORNING" July 26 at 10 to 11:30 am; Lunches-To-Go Service (see above)
TUESDAY GAME NIGHT July 28 at 7 pm via Zoom
WEDNESDAY BOOK CLUB July 29 at 3 pm via Zoom
SUNDAY LIFE NIGHT August 2 at 7 pm via Zoom; Senior Send-Off!
Lauren Piercefield, High School Youth Minister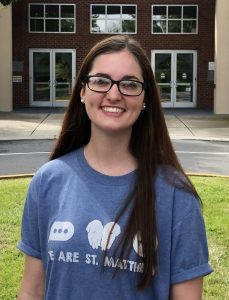 Life Teen Mass: Sunday, 5:30 pm
At the Sunday 5:30 pm Mass, teens and their families are invited to experience the depth of God's love through the Word, the community, and the Eucharist. All teens are welcome to sit as a community in one section and are encouraged to participate as lectors, ushers, and extraordinary ministers of holy Communion.
Because of restrictions due to covid-19, the Sunday 5:30 Mass is not being celebrated.  We encourage teens and their families to attend the Sunday 12:30 Mass, 10:45 Communion Prayer Service or view Mass online.
Life Nights, Sunday 6:45 to 8:30 pm
Teens meet in small groups of 8 to 10, led by two adult faith mentors.  It is the perfect way to jump-start your school week or wind down a week of summer. Evenings begin with a shared message, followed by small group time.
Due to gathering restrictions, our Life Nights are taking place via Zoom.
Confirmation and RCIT  (Rite of Christian Initiation for Teens)
This program is for teens coming into the Church who have not yet received all the Sacraments of Initiation (Baptism, First Eucharist and Confirmation) or those who have not been enrolled in Faith Formation for an extended period of time seeking only the sacrament of Confirmation.
Through a relaxed, small group setting, teens discover the teachings of the Catholic Church and what it means to live your life as a Catholic Christian in today's world.
To register for the 2020-2021 program year, please contact Avery Utz.
Strengths Quest
This program helps high school teens discover who God is calling them to be! We are each uniquely and perfectly made, and Strengths Quest can help us see how.
Through a brief on-line assessment developed by the Gallup Organization, teens discover their top five God-given strengths. After taking the assessment, teens attend a one-time, three-hour gathering that covers how to apply these strengths to become more engaged in the parish, find fulfilling ways to volunteer in the community, develop stronger relationships, find more success with school work, and more. It's a fast-paced course with lots of discussion and self-discovery, lots of great snacks and a whole lot of Holy Spirit!
Contact Lauren Piercefield for additional information.
Teen Volunteer for Faith Formation
This is a great opportunity for teens to share their faith with younger members of the parish.
From pre-school to 8th grade, teens act as catechists, small group facilitators and more in our Faith Formation programs during the year. This is a wonderful way for teens to strengthen and deepen their faith as they help younger students get excited about being Catholic.
For more information, contact Lauren Piercefield.
Youth Ministry News