High School Youth Ministry
Our program is committed to providing our teens with the best possible opportunities for personal and spiritual growth through catechesis (religious education), fellowship, service, outreach, and leadership.
---
StrengthsQuest
Teens who use their natural talents achieve the most — but first, you  need to know what those talents are.
An online assessment helps determine the top five 'themes' of your God-given strengths, or talents.  Then, a three-hour interactive workshop with other teens will help you explore and understand your strengths and how to maximize them to get a summer job, discern vocation and college choices, or even how to help your parents understand the way you think and do what you do!
---
Lauren Piercefield, High School Youth Minister
Favorite Scripture Verse, Philippians 4:13: "I can do all things through Christ who strengthens me."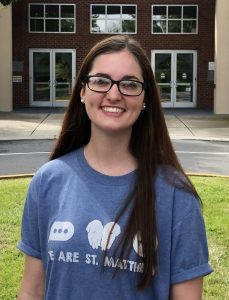 Life Nights, Sunday 6:30 to 8 pm
Early Spring Series: Made for Holiness
Feb. 28:

Made Male and Female

Mar. 7:

Chastity

Mar. 14:

Love

Mar. 21:

Made for Holiness
Late Spring Series: Living out Holiness
Apr. 11:

Divine Mercy Sunday – A Teaching Mass
Apr. 18: Docility to the Holy Spirit

Apr. 25:

Evangelization

May 2:

Rising Freshman Night
May 16 – XLT (Adoration and Confession)
May 23 – Senior Night
Life Teen Mass: Sunday, 5:30 pm
At the Sunday 5:30 pm Mass, teens and their families are invited to experience the depth of God's love through the Word, the community, and the Eucharist. All teens are welcome to sit as a community in one section and are encouraged to participate as lectors, ushers, and extraordinary ministers of holy Communion.
Because of restrictions due to covid-19, the Sunday 5:30 Mass is not being celebrated.  We encourage teens and their families to attend the Sunday morning Mass, outdoor Communion Prayer Service or view Mass online.
Confirmation and RCIT  (Rite of Christian Initiation for Teens)
This program is for teens coming into the Church who have not yet received all the Sacraments of Initiation (Baptism, First Eucharist and Confirmation) or those who have not been enrolled in Faith Formation for an extended period of time seeking only the sacrament of Confirmation.
Through a relaxed, small group setting, teens discover the teachings of the Catholic Church and what it means to live your life as a Catholic Christian in today's world.
Current RCIT Candidates can find sacramental requirements HERE.   Our current program year registration is closed, but to inquire for 2021.2022, please contact Diane Kiradjieff.
Strengths Quest
This program helps high school teens discover who God is calling them to be! We are each uniquely and perfectly made, and Strengths Quest can help us see how.
Through a brief on-line assessment developed by the Gallup Organization, teens discover their top five God-given strengths. After taking the assessment, teens attend a one-time, three-hour gathering that covers how to apply these strengths to become more engaged in the parish, find fulfilling ways to volunteer in the community, develop stronger relationships, find more success with school work, and more. It's a fast-paced course with lots of discussion and self-discovery, lots of great snacks and a whole lot of Holy Spirit!
Contact Lauren Piercefield for additional information.
Teen Volunteer for Faith Formation
This is a great opportunity for teens to share their faith with younger members of the parish.
From pre-school to 8th grade, teens act as catechists, small group facilitators and more in our Faith Formation programs during the year. This is a wonderful way for teens to strengthen and deepen their faith as they help younger students get excited about being Catholic.
For more information, contact Lauren Piercefield.
Youth Ministry News