Welcome to St. Matthew Young Adult Ministries!
Young Adult Life Ministry provides young adults (20s–30s) single or married opportunities to grow in their faith and be active in the St. Matthew community through spiritual, service, and social activities. We welcome all young adults, members or non-members of St. Matthew, to join us for our events.
Check out our Facebook page for updates and event announcements!
Young Adult Book Club
Join us for a book club, filled with a little reading and lots of interesting discussion! Our next book is…
Creed or Chaos? by Dorothy Sayers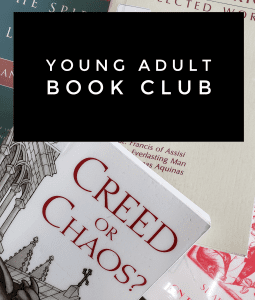 From Goodreads: "Today you hear it even from many well-meaning Christians: "It doesn't really matter what you believe, so long as you're sincere."But in Creed or Chaos?, author Dorothy Sayers demonstrates that such a "doctrineless Christianity" is not merely impossible; it's dangerous. Indeed, argues Sayers, if Christians don't steep themselves in doctrine, then the Christian Faith — and the world outside the Faith — will descend into chaos."
This book is a series of essays on the Christian life, so each chapter is independent. If you can only make it once, you are still welcome!
We plan to meet outside at St. Matthew. If the weather is miserable on the day of (either rainy or too hot), I'll post an updated location in the Facebook group!
Our first Creed or Chaos? meeting will be on July 22 at 7:00 pm at St. Matthew on the benches by the outdoor Stations of the Cross.
Subsequent planned meeting dates for Creed or Chaos?

August 12, 7:00 pm
September 9, 7:00 pm
October 14, 7:00 pm
November 11, 7:00 pm
For more information, please contact Rachel Willoughby, the Young Adult Ministry Coordinator, by email, rachelw@stmatthewcatholic.org, or by phone, 704-543-7677 ext. 1020.