Anticipating the possibilities of the future has been made even more of a challenge due to the covid-19 pandemic.  In light of that, we are looking a fairly dramatic reformatting of our programs offered.  We appreciate your patience as we seek to provide your family with the safest and best possible options for our 2020-2021 program year.
Our hope is to provide you with your options in mid-June, and then open registration for 2020-2021 in mid-July.  Please continue to check back!
For details regarding First Eucharist, visit our Parent-Eucharist page.
Regarding the sacrament of confirmation, the schedule of the Mass will be determined by the Office of the Bishop, and we will notify parents as soon as we have been informed.
WELCOME!
Our primary goal in our children's and youth ministry programs is to provide parents with the support to raise your children in the Catholic faith and build a family life which is built upon and completely intertwined with that faith.   It is an honor and a privilege to serve and support your family!  To discover more about our specific programs in Children's and Youth Ministry at St. Matthew, please select the button links at the bottom of the page. 
Faith Formation and Youth Ministry News

VBS – An Alternative Approach!
-
When discussing options for VBS this year, someone made the comment "well, this will be the one where we socially… ... Read More >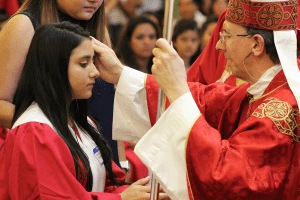 Confirmation 2020 – Postponed
-
Confirmation 2020 - Postponed Throughout this year, and especially during this time, we've been praying for you, your family,… ... Read More >
2020 Graduates – We Honor You!
-
2020 Graduates - We Honor You! This moment in history will be certainly a memory you will carry with you… ... Read More >
Upcoming Events