WELCOME!
Through faith formation (@MATT and @HOME), Family Connections and Youth Ministry events, our primary goal in our children's and youth ministry programs is to provide parents with the support to raise your children in the Catholic faith and build a family life which is built upon and completely intertwined with that faith.  Each program is designed to provide each child the opportunity to discover the joy of a friendship with Jesus, and to allow them to explore how to grow that friendship  through the gift of our Catholic faith.
You can explore more of our programs below, or reach out to any of your Faith & Family Program staff!  If you are interested in serving as a volunteer in our programs, please visit our Volunteer Information page to learn more!
It is an honor and a privilege to serve and support your family!  
2021-2022 Program Year!
To rebuild  and foster our sense of community in the parish, families are encouraged to choose the @Matt program this coming year.  However, we recognize that some will still need the @Home option, so we will continue to offer it with slight modifications.
Registration for both programs will open for volunteers and their families on Monday, May 3 and for all other families on Monday, July 12
2021.2022 @Matt (Elementary and Middle School)
Sessions will follow a Fall-Winter-Spring trimester format again this year, beginning in October 2021 and concluding in the early spring.
Small Groups remain at no more than 8 children.
Supplies will continue to be provided individually at each session, not shared in community.
Hand sanitizing and disinfecting touch points will continue between sessions.
Masks will be worn until otherwise recommended by CDC and parish leadership.
Sessions will be offered as follows:
SUNDAYS
Ballantyne Campus

Elementary: 2:30-3:30 and 4:00-5:00
Middle School: 3:45-5:15 and 7:00-8:30

Waxhaw Campus

Elementary: 2:30-3:30 and 4:00-5:00
Middle School: 5:15-6:45 and 7:00-8:30
WEDNESDAYS
Ballantyne Campus

Elementary: 4:00-5:00 and 5:30-6:30
Middle School: 7:00-8:30

Waxhaw Campus

Elementary: 4:00-5:00 and 5:30-6:30
Middle School: 7:00-8:30
2021.2022 @Home (Elementary and Middle School)
This year's @Home Program will have the following modifications:
Submission of completed lessons and projects along a timeline provided at the beginning of the program year.
Parent and child necessary participation in person in the four Family Discipleship events that begin the year and conclude the fall, winter and spring sessions.
For those in sacramental preparation, in person attendance will also be necessary at any sacramental retreats or program events.
Faith Formation and Youth Ministry News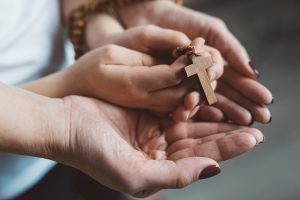 Family Rosary Making – May 16
-
As per tradition at St. Matthew, each year our first grade children make a rosary at the end of the… ... Read More >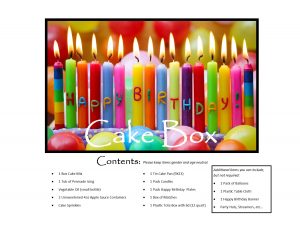 Family Service Project: Happy Birthday Kits!
-
Everyone deserves a birthday cake to celebrate their special day. Let's celebrate the birthday of our Catholic church by sharing… ... Read More >
2021 Graduates – We Are Proud of You!
-
This moment in history certainly will be a memory you will carry with you forever. We want you to know… ... Read More >
Upcoming Events
Baccalaureate Mass
Thursday, May 20
6:00 pm-7:00 pm
8015 Ballantyne Commons Pkwy, Charlotte, NC 28277, USA