What is Confirmation?
Baptism, the Eucharist and Confirmation together constitute the Sacraments of Christian Initiation.  Confirmation is necessary for the completion of baptismal grace.  By the sacrament of Confirmation, the baptized are more perfectly bound to the Church and are enriched with a special strength of the Holy Spirit.
Director of Faith Formation: Diane Kiradjieff, 704-543-7677 x1038
Sacramental Coordinator, Confirmation: Amy Bojarski, 704-543-7677 x
Adults seeking confirmation should inquire about the Rite of Christian Initiation of Adults (RCIA) Program by calling Rachel Willoughby 704-543-7677 x1020
For saint and sponsor form submissions and information on responsibilities of candidates for Confirmation in the spring of 2023, please see drop-down below!

2023 Candidates for Confirmation - Responsibilities
If you have a child in eighth grade or older, and you have not enrolled your teen with the Office of Faith Formation, please contact Amy or Carolyn by Jan. 31, 2023.
For a complete guide to Confirmation 2022-2023, click HERE.
PREPARATION PROCESS: 
Eighth or Ninth Grade: Teens who have met the requirements for enrollment must complete the seven-week Ignite Program during one of the offered trimesters.  We are currently enrolling for the spring trimester, registration will close on Jan. 31, 2023 at 4 pm.  The Ignite Program includes a one day Parent-Teen Retreat offered during the trimester.
Tenth to Twelfth Grade: Teens must complete a full year of the RCIT Program to be eligible for the sacrament. Registration is closed for the 2022-2023 program year.
RESPONSIBILITIES OF CANDIDATE:
Be The Church (DUE May 1, 2023): Candidates must choose a minimum of nine parish life events to participate in outside of the Ignite sessions, regular weekend Mass and holy days of obligation. After each event, candidates submit a Be The Church google form detailing your experience. The goal of these experiences is for you to learn more about yourself and how the Holy Spirit is guiding you to live an active life of faith within your parish community. Although we never want to discourage community involvement outside our parish, these nine experiences must be sponsored by a St. Matthew ministry.

Saint Selection (DUE March 1, 2023): Candidates will choose a saint to be their heavenly prayer champion and lifelong guide. Teens should feel both connected and inspired by the saint you select. The chosen will be the name used during the anointing and will be entered into the sacramental records alongside the candidate's given baptismal name. Only names of canonized or beatified (blessed) saints recognized by the Catholic Church can be chosen as confirmation saints. Candidates are expected to write a personal reflection at least three paragraphs in length which tells of who you are, who your saint is and how you connect.  All submissions will be reviewed by St. Matthew staff members. We look forward to seeing which saint you chose and why!  Need help getting started? Look HERE or HERE!

Sponsor Selection (DUE March 1, 2023): In similar fashion to the saint, a candidate's sponsor should be viewed as a human prayer champion and lifelong guide in faith. The responsibility of the sponsor is to present the candidate to the Bishop at your Mass of Confirmation and to guide them in the Catholic faith everyday forward.  A sponsor must be at least sixteen years of age. A sponsor must be a baptized Catholic, who has been confirmed, has already received the Blessed Eucharist, and lives a life of faith abiding by the truths and precepts of the Catholic Church. The sponsor can not be the parent or legal guardian of the candidate.  Once chosen, the sponsor will need to complete the form below, or provide a letter from their home parish.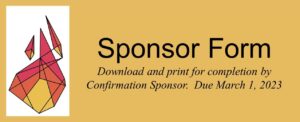 Confirmation Process at St. Matthew
We understand that every youth's faith journey is as unique as they are. Therefore, our Confirmation program combines flexible catechesis with countless parish life opportunities that inspire the youth to enter an active life of faith as a confirmed Catholic. The confirmation process takes place in two parts. The first is designed to strengthen the youth's Catholic foundation and knowledge before they enter into the second part, which specifically prepares them for the sacrament.
INVITED: Part One of the Confirmation Process
If a youth is in Catholic school, the first part of the process takes place within the school.  If a youth is in public or private (not Catholic) school, the first part of the process takes place within Faith Formation in our new INVITED program.
INVITED is six faith content courses offered in seven-week trimesters during the program year.  Beginning in 2023, the courses will be offered as a summer option as well.
IGNITE: Part Two of the Confirmation Process
Once a youth is in eighth grade or older, and he or she has completed the INVITED program, or at least one year of Catholic school prior to eighth grade, the second part of the process may begin – the IGNITE program.  Regardless of what school a youth is attending, this part of the process must be completed in the parish.  IGNITE is offered as a seven-week course that may be taken during the fall, winter or spring.  Included in the course is a day retreat for the parent and teen to participate in together, along with the sponsor if he or she is available.
Youth Ministry News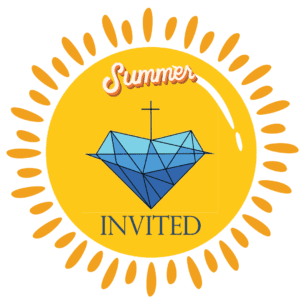 Summer 2023 Faith Formation: INVITED Intensive
-
July 25 to 27 – Waxhaw Campus 9:30 am to 12 noon: Sacraments, Morality, Trinity 6 to 8:30 pm: Revelation,… ... Read More...


Vacation Bible School 2023!
-
https://www.youtube.com/watch?v=kePKALUWvvc VBS 2023 will take place June 26 to 30! Registration opens on Feb. 2 at 4 pm! For more… ... Read More...