Sacrament of Reconciliation
Weekly

Wednesday
9 to 10 am
Sunday 
10 to 10:30 am
11:45 am to 12:15 pm
Weekly Rosary
12:10 pm on Wednesdays
Join us either in person or online for a weekly rosary.

In this special Lenten podcast, Diane Kiradjieff, Director of Faith Formation, joins to get us all ready for Lent! Learn more about the spring cleaning we are all in need of, tips for Lenten "daily doses", and how to let more of God's mercy into your life.
Lenten Calendar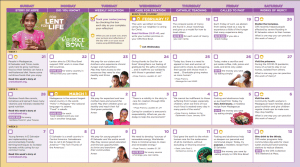 Take the prayer challenge each day!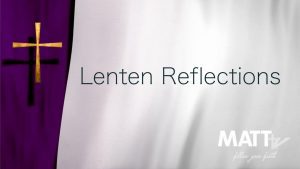 An annual favorite is back beginning Ash Wednesday. Lenten reflections by our clergy, staff and parishioners will be shared and available through our regular channels, as well as following our live- stream Masses (Sundays at 9 am and weekdays at 8:15 am).
Spiritual Reading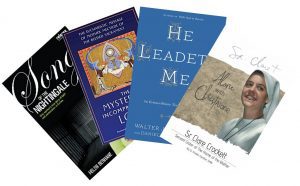 Picking a special read to help focus during the Lenten season is a long standing tradition in the Church. Here are a few suggestions:
Sr. Clare Crockett: Alone with Christ Alone by Sr. Kristen Gardner SHM
He Leadeth Me: An Extraordinary Testament of Faith by Fr. Walter Ciszek SJ
Song of the Nightingale by Helen Berhane
The Mystery of Incomprehensible Love by Mother Mectilde de Bar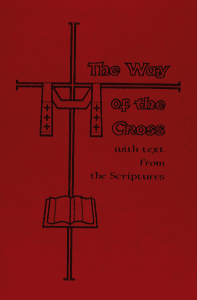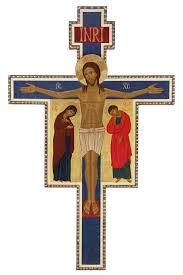 Click here for Good Friday's Stations of the Cross.
Indoor Stations with Deacon Jack
Outdoor Stations with Faith Formation
Audio recordings of the Way of the Cross:

Prepare for Easter by growing your own Easter grass for your basket!
Instructions and more information at the bottom of this page.

Small Group Study
TEXT "VIRTUES" to 84576 to join this study and get weekly updates in your inbox.

SMU Zoom Study
If you don't have a small group but would still like to do a Lenten study, you can join us for Forgiven!
Fatherly Foods
Try one of these recipes for Lenten favorites of Father John, Father Davis and Father Peter!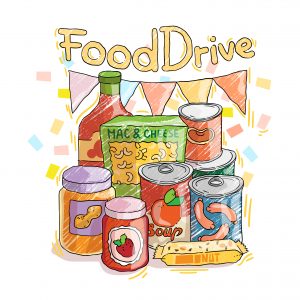 Build an Easter basket for our friends in need!
At its origin the Easter Basket, was a sign of prayer, hope and thankfulness for a fruitful Spring season. In the same spirit, join us this Lent in prayerful gratitude for our bountiful blessings by participating in our St. Matthew food "basket" drive.
There are two ways to participate:
Option 1: Assemble an Easter Meal Basket Due: Saturday, March 27 between 10 am and 1 pm in the Parish Center Gym.
Prepare an 18 gallon plastic tub with a lid and include as many of the nonperishable food items listed below to create nearly complete meals. You may also add a personal note to the receiving family. Please drop the completed basket in the Parish Center Gym on Saturday, March 27 between 10 am and 1 pm.
Option 2: Donate single food items in the large grey receptacles at the front entrance of the Church March 13 to 21.
Drop any single items from the list below and drop them off in the large grey receptacles located at the front entrance to the Church between March 13 to 21.
Suggested Donations (No GLASS please)
| | | |
| --- | --- | --- |
| Canned Fruits | | Boxed Hamburger Meal |
| Canned Vegetables | | Dry Pasta & Tomato Sauce |
| Canned Meats/Fish | | Instant Potatoes & Rice |
| Canned Beans | | Pancake Mix & Syrup |
| Mac-n-Cheese | | Canned Soup |
| Peanut Butter | | Jell-O or Pudding |
| Jelly/Jams | | Crackers |
| Cookies | | Condiments |
| Cereal | | Granola Bars / Pop Tarts |
| Paper Towels | | Cake Mix & Icing |
More Lenten Resources
In addition to Word On Fire digital, St. Matthew also has a parish subscription to Formed. Both Word on Fire and Formed have lots of great Lenten resources and studies available to you for free as a St. Matthew parishioner! Having trouble signing on? Send us an email at jstumbo@stmatthewcatholic.org.
Plant, Grow, Celebrate!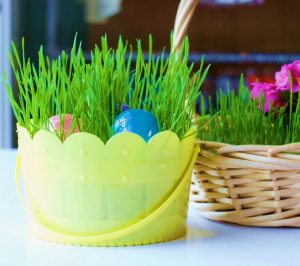 Grow Me, Lord
I remember when YOU first gave birth to my soul
A heart full of joy, I was on a roll
Then life set in, how was I to know
To get back to YOU, I've got to grow
So grow me into someone faithful and strong
Grow in me the courage it takes to carry on
Grow me into someone gentle, kind and true
Grow me into someone just like YOU!
Adapted from Brush Arbor's "Grow Me"
This Lent…Plant, Grow, Celebrate!
Plant your faith and watch it grow as you plant & grow your own Easter Grass. Tend to your faith by reading the daily prayer while you tend to your emerging Easter Grass.
To get started: Gather the grass seed packet provided and these additional supplies found in the gardening department of most stores:
• potting soil
• plastic plant saucer (that fits inside your Easter basket)
Instructions:
Day 1:
• Plant seeds at least 2 weeks before Easter in the plastic plant saucer.
• Fill the plastic plant saucer half way with soil, and pat it down evenly.
• Add seeds on top of the dirt. Press them down into the dirt about half an inch with your fingers. Some seed will remain on top.
• Generously wet the dirt, but not too much!
• Place your saucers in a warm sunny place indoors.
• Water your grass every day, just enough to dampen the soil. (Remember your prayer!)
Day 3 to 4: Blades of grass should begin poking up through the dirt!
Day 4 to 6: The grass will continue to grow and thicken in the saucer.
Day 8 to 12: Your grass will reach a good height and will be ready for your Easter basket! Test the length of your grass by placing the saucer of grass in your basket. If the grass is too long, you can simply trim it with a pair of scissors!
Click Here to print the Grow Me, Lord prayer and Grow your own Easter grass Instructions