We provide Meal Bags for our friends at the Community Shelter of Union County in Monroe (N.C.)
Volunteers are to pack about 20 bags per sign up (If you want to do more please add to the sign up)
Twice a month, we deliver the meal bags to the shelter.
VOLUNTEER OPPORTUNITIES
Volunteers drop the bags at the New Life Center in the ice machine room (same room as the muffin ministry), next to the Banquet Room at Saint Matthew Church (some shelves are marked and dedicated to the bags drop off. Click here for a map of the location. If you aren't sure, do not hesitate to contact me, my information is below!
Reminder emails will be sent one week in advance.
There is a sign up sheet by the shelves, please do not forget to write your name when you drop the bags so I can get the correct count and names. Thank you so much in advance!
This is a great opportunity for community service hours for teens in helping to feed the homeless.
Volunteers will receive 2 hours of service hours for this service project.
If you need to contact me regarding the drop off for the bags or for any queries, please email Florence Juredieu-Cole at flofrench71@gmail.com or on my cell 617-480-5952. 
Breakfast bags include the following:
One white paper bag
1 plastic spoon, 1 paper napkin
1 fruit cup or applesauce
1 granola bar
1 store wrapped cookie or poptart
1 individual cereal box or 1 packet of grits/oatmeal
Optional:  a blessing note, an encouragement no
te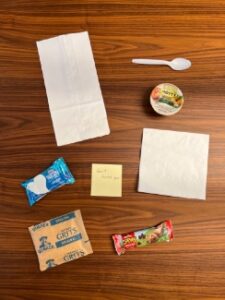 The lunch bags include the following:
One brown paper bag
1 plastic spoon, 1 paper napkin
1 fruit or applesauce cup
1 dessert item (individually store wrapped cookie) please no homemade cookie!
1 peanut butter cracker pack or granola bar or small bag of chips/pretzels.
1 small bottled water ( 8 ounces)
Optional: a blessing note or encouragement note.