What is Edge?
Edge is a Catholic middle school youth ministry program that provides a safe, fun place for youth to find solid Catholic community, to get answers to their questions about faith, and, most importantly, to experience Jesus in a profound and personal way. This program now offers a space for middle school youth to freely engage with their faith without the expectations or requirements. The only thing we ask is that they come as they are – questions, attitude, and everything in between – and treat one another with Christian charity.

---
Upcoming Events
Join us at Edge (almost) every other Sunday from 3:30-5 pm in the Parish Center Family Room (dates on calendar below)!
Lent series – 40: We will explore the familiar traditions of the season and define some less familiar terminology while calling youth to examine their own prayer lives and relationship with God. Our series emphasizes the powerful role of Lent in both the liturgical life of the Church and in our own lives as an opportunity for penance, preparation, and conversion.
Palms & Passion – Service Event: Our middle school youth for many years have been the ones to split the numerous amount of palms distributed at our parish Masses on Palm Sunday. We gather together to serve our parish community, and then turn to reflect on our Lord's Passion and Death through praying the Stations of the Cross. Space will be limited at this event, so a sign-up will be posted ahead of time.
Reflections – Series on Masculinity and Femininity: God created each of us in his own image and likeness with love and intention, including our bodies. This series will teach what it means to be created a man and to be created a woman, and show different examples of the men and women who have gone before them, living holy lives, and are now saints or blessed. Reflection gives the youth an opportunity to look at what it means to live out their faith as young men and women.
Balloon Bash – Welcoming Rising 6th Graders: Our last session of the year welcomes the graduating 5th grade class to come and see what Edge has to offer them as they rise the ranks and enter into middle school! All middle school youth are welcome as we close this year with a bang – or maybe a POP! Please RSVP at the link here.
---
Edge Program
We love inviting new teens to join us for Edge – please come and bring your friends! If you plan to join us regularly, we ask that you please register via the link above to help mitigate the cost of supplies.
Edge Camp 2023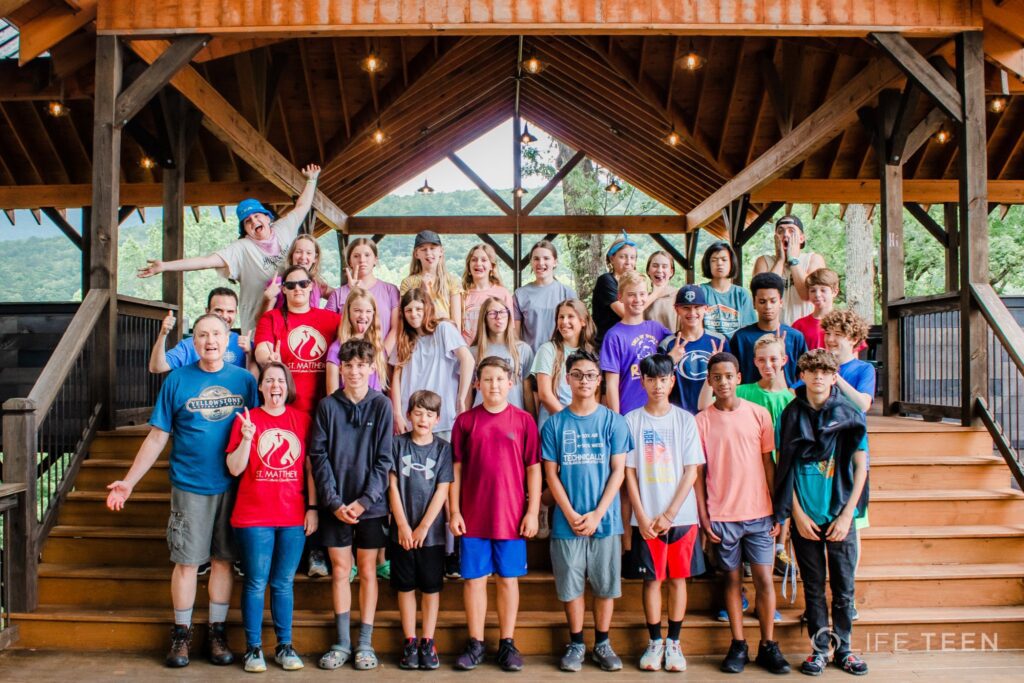 This coming summer, Edge Camp will take place from July 17th-22nd at Camp Hidden Lake. To learn more about what Camp Hidden Lake offers, visit their website here. The total cost of camp is $585/person, paid in a $100 deposit and remaining balance throughout the year. Payment plans and financial aid are available. If you have questions, please email Avery Utz. We are currently running a waitlist for female spots for camp. You may still use the link to be placed on that waitlist.
---
Christ has no hands but yours – Are you willing to use them? Looking for a way to live out your call to serve? You can find opportunities below!


Youth Ministry News

Vacation Bible School 2023!
-
https://www.youtube.com/watch?v=kePKALUWvvc VBS 2023 will take place June 26 to 30! Registration opens on Feb. 2 at 4 pm! For more… ... Read More...
FF Ballantyne
Tuesday, February 7
12:00 am-11:59 pm
8015 Ballantyne Commons Pkwy, Charlotte, NC 28277, USA
FF WAXHAW
Wednesday, February 8
12:00 am-11:59 pm

Mass - Life Teen
Sunday, February 12
5:30 pm-6:30 pm
St. Matthew Catholic Church, 8015 Ballantyne Commons Pkwy, Charlotte, NC 28277, USA