Middle School
The nurturing of a young person's faith takes place within the family.  As the parents are the primary faith educators, during these initial middle school years, it is our goal to build upon the foundation you have laid in their early childhood and elementary years.  This happens not only within the Faith Formation experience but through service opportunities, social events and retreats.  It is our hope during these middle school years to help your soon-to-be teenager to spiritually prepare for the sacrament of confirmation, but more importantly to support you in guiding them to answer the call to discipleship and grow in an understanding of what it means to be a Catholic in the modern world.
Avery Utz, Middle School Youth Minister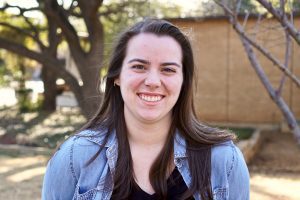 Middle School Online
Join us on Mondays for Game Night or Bible & Making at 7 pm via Zoom.  Contact Avery for zoom link!
Edge & Ignite Programs (Faith Formation and Confirmation Preparation)
In the Diocese of Charlotte, two consecutive years of formal religious remote education (Catholic school or faith formation) is required prior to the reception of Confirmation.  In addition, those attending Catholic school are expected to participate in proximate preparation through parish faith formation.

The Edge program is offered in 6th, 7th and 8th grade.  Utilizing a youth ministry format, Edge provides a safe fun place for youth to find solid Catholic community, to get answers to their questions about faith, and, most importantly, to experience Jesus in a profound and personal way.  At St. Matthew, this program serves as continuing faith formation for middle school youth and lays the foundation to prepare them for the sacrament of Confirmation at the end of 8th grade.
During the 8th grade year, providing the teen has participated in either 7th grade Catholic school, faith formation or other formal Catholic religious education, the youth's experience is enriched with our Ignite proximate preparation to complete their preparation for Confirmation and life as a fully initiated Catholic disciple of Christ.
Questions regarding Confirmation?  Answers can be found here, or you may contact Diane Kiradjieff or Avery Utz.
Xtreme Edge
So, just what is Xtreme EDGE?
These nights combine the spiritual and the social, allowing middle school youth to explore their role in our Catholic faith. It's a place to hang out with your friends, make new friends! The middle school years are one of the toughest times of life to navigate through, and Xtreme EDGE is a ministry here to let them know that they are not alone. It gives the youth a place to belong, where they can come and have fun in a safe environment, feel important to their parish family and have an encounter with their ever-loving Father.
If you are in 6th, 7th or 8th grade, Xtreme EDGE is waiting for you!
Friday nights, once a month; themes and activities vary from service projects to movie nights, to relay games, dodgeball, good food and everything in between!  Our Xtreme Edge events have temporarily moved online.   Join us on Monday nights for Game Night or Bible & Making!  To get involved, contact Avery!
Bible & Baking
3rd Thursday of the Month, 7pm-8:15pm
Location: Parish Center/Kitchen

Offered on the third Thursday of each month from September to May, middle school students are invited to bake treats for the Missionaries of the Poor. While the treats are cooking, we will take some time to explore some Bible stories! Meet in the Family Room in the Parish Center.  Our Bible & Baking events have temporarily moved online.   Join us on Monday nights for Game Night or Bible & Making!  To get involved, contact Avery!
2020-2021 dates to be announced in August!
Youth Ministry News