Fall 2020 SMU registration is ready, look through some of these classes listed, spend some time watching a trailer to find a course you would enjoy, engaging with a community and learning God's Word.
To register for a class CLICK HERE
Special note regarding SMU Fall 2020:
Childcare will not be offered until further notice. Unfortunately, children will not be allowed to accompany their parents in the classrooms due to the need to social distance.
For now, there will be no food served during any classes and we ask you refrain from bringing food. Please feel free to bring your own coffee cup, water or beverage of your liking.
Also, please wear a mask while on and attending all St. Matthew classes, events and Mass and Communion Services. Thank you very much for your cooperation.
---
We are truly delighted to share a special speaker with you, a professor from the University of Notre Dame!
We hope you will be able to join us as we welcome Father Paulinus Odozor, C.S.Sp.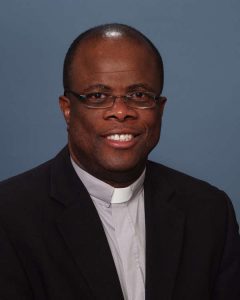 CATHOLIC SOCIAL TEACHING AND ITS MODERN CHALLENGES
Father Paulinus Ikechukwu Odozor, C.S.Sp
Thursday, Nov. 19, 2020
7 to 9 pm
Banquet Room
No fee; Registration is required by Wednesday, Nov. 18
Click HERE for registration; required for updates and to let us know you are coming.
Father Paulinus Ikechukwu Odozor, C.S.Sp., is a priest of the Congregation of the Holy Spirit (Spiritans). He received his initial formation in Nigeria and did his graduate studies at St. Michaels College, Toronto, Regis College, Toronto, and the University of Toronto. Father Odozor's scholarly interests are in Foundational issues in Christian ethics; history of Catholic moral theology; contextual theological issues, including questions pertaining to enculturation; theology and society; African Christian theology; and the theology of marriage. Fr. Odozor is also an Africanist with interest in African history, African literature, African politics' and questions relating to change and contemporary African societies. In addition to being the author of many articles in peer-reviewed publications in Africa, Asia, Europe, and North America, Fr. Odozor has also authored or edited nine books. Fr. Odozor held numerous academic, administrative, and pastoral positions in Nigeria and Canada. He was president of the Governing Council of Spiritan International School of Theology in Enugu, Nigeria (2005-2017) and Father Odozor was appointed by Pope Benedict XVI as expert assistant to the 2009 Synod of Bishops for Africa.