Greetings from St. Matthew!
New classes are here and ready for you! See below, classes begin after Easter.  We are excited to present three amazing classes with three of our fabulous faithful facilitators! So jump in take a class and be ever so near Connected in Christ! Register early and get your books delivered directly to your home.
Come and see if there is something you'd like to take. Classes will be offered on Zoom and materials will either be digital or shipped to your homes when registering through Ascension Press.
Try a virtual class!
Click on the class title to find all the information you need about each class (Time, dates, facilitator and cost.) Accepting online registrations only through Ascension Press. If you have any questions, email Judy Stumbo, jstumbo@stmatthewcatholic.org 
Ephesians: Discover Your Inheritance
Zoom time is: Tuesdays, 1 to 2:30 pm; begins 4/21
Zoom time is: Thursdays, 11 am to 12:30 pm; begins 4/23
Zoom time is: Thursdays, 7 to 8:30 pm; begins 4/23
---
Bringing Church Hom
e through the COVID-19 Pandemic
We want to provide some opportunities for community building, despite our current inability to gather. Closing the church and staying home from work can make us all feel a bit isolated, but we are never isolated from Christ and the other members of the Mystical Body. This group will send an email a few times a week, sometimes a note, sometimes a video or a podcast – things that join us together and remind us that we are one, despite our distance.
Today's highlight is not a novel practice – it's a reminder that despite the changes, our life isn't so different after all.
The Lenten Challenge, undertaken by our community on Ash Wednesday, is, and has been, a community builder: 
We unite in prayer each day at 3 pm. The 3 o'clock Our Father has been our rallying point for years, but even more so with our renewed effort this Lent.
We can share stories of ways that we are loving one another by sending "Be nice" moments to stories@stmatthewcatholic.org.
We join together by watching MattTV for Lenten reflections and more recently for Sunday and daily Mass.
We are all encouraged to live our Catholic life every day of the year, in the church on Sundays and outside of the church throughout the rest of the week. Admittedly, this is a time of more intense practice than we are used to. In these desert days, we have a unique opportunity now, while Mass is canceled and the church building is closed and empty, to embrace the reality of the domestic church. How can we do that? Look out tomorrow and the upcoming weeks for some ways to enter into the sacredness of Sunday and of setting up a prayer corner or a sacred space in your home. If you have a prayer corner or sacred space set up in your home already or a way to make Sunday special that you would like to share, send in pictures or stories to 
stories@stmatthewcatholic.org
.
May God continue to bless you in these desert days,
Rachel Willoughby
---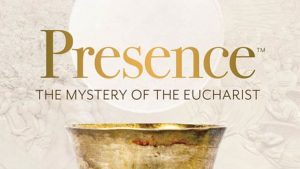 Presence The Mystery of The Eucharist
All 7 Episodes and a study guide can be found on Formed.org.
Although the Eucharist appears to be simple bread and wine, it is actually the "source and summit" of the Christian life. The Mystery of the Eucharist explores the truth and beauty of Christ's real presence in the Eucharist, from its origins in Sacred Scripture, to its profound role in the life of the Church and her members. It is the crescendo of the entire story of salvation.
Rachel Willoughby will send a link each week on Bringing Church Home from Flocknote with a link to the video, and a short written reflection and a few key questions for discussion. Contact RachelW@stmatthewcatholic.org for more instructions with this study.
Great study to use with your small group.
Presence Study guide: Click Here
Session 7 is a video helping parents helping prepare their children for First Holy Communion.
---
Check out this short study on FORMED: 
The Our Father: Praying As Christ Taught Us
A Short Course with Dr. Ben Akers (6 episodes)
When asked what they should say in prayer the Lord gives his disciples the "Our Father." This prayer is considered a gift from the Lord and one that we should especially turn to in times of crisis. This series will go line by line through the prayer highlighting what it meant to Jesus' first century audience and what it means for us today.
Jesus: Model and Master of Prayer
The address to God Our Father who art in heaven and the 1st petition.
The 2nd and 3rd petitions, Thy kingdom come and Thy will be done.
The 4th petition, Give us this day our daily bread.
The 5th petition, And forgive us our trespasses.
The 6th and 7th petitions, And lead us not into temptation.