The Food Pantry Ministry of St. Matthew is dedicated to helping those in need. We provide food assistance with dignity by allowing those in need of food the opportunity to choose non-perishable foods from the pantry. If you need food assistance please contact Don Meanor at 704-543-7677 x 1018.
Donations may be dropped off at all Saturday and Sunday Masses in the Waxhaw campus narthex. If you have any questions regarding the Waxhaw campus pantry, please reach out to Leslie Toggweiler, 704-517-1945 or Megan Austin, 704-491-2423.
We are happy to announce that the Waxhaw campus now has its own Waxhaw Food Collection ministry serving Union County! For more information, visit their webpage.
New to volunteering at St. Matthew? Please read the Safe Environment Policy.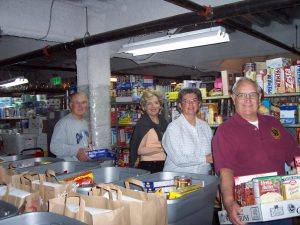 Current Food Pantry Needs
To help serve the under-resourced of our community, we need the following items:
Plastic bottles of juice
Juice boxes
Ramen noodles
Canned peas, green beans and corn
Small bags of sugar
Canned fruit
Individually wrapped paper towels
Donations must be unopened in their original container with all labeling attached and a freshness date that has not expired. Bring donations to the storage area below the Daily Mass Chapel, Monday through Friday, by 2 pm.