Mission Statement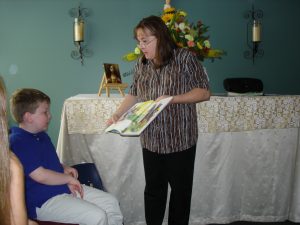 SPRED is a program of religious development specifically designed to meet the spiritual needs of persons of all ages with developmental disabilities and intellectual challenges. Through their participation in the SPRED Community of faith, our Special Friends are incorporated into the liturgical and sacramental life of the parish of St. Matthew. SPRED serves persons with special needs age six through adulthood.
Click here for information about our Bridge Religious Education Program.
Volunteer Opportunities
Catechist Helpers, while they do not teach as such, serve as mentors and guides for a specific Special Friend during the SPRED session. They serve as models in establishing a faith community, where all love and serve God and seek to know His Love for us. The Catechist Helper accompanies his or her Special Friend in preparation to receive the sacraments.
Time Commitment
The SPRED Program runs from September to May; sessions with our Special Friends are two hours long (from 10:00 am to 12:00 noon) on 12 Sundays. Catechist preparation meetings are approximately one and a half hours long the week before each full session. During these meetings, the catechists develop their own strong faith community and prepare for the full sessions.
We need catechist helpers! Please contact Carol Hearrmann, 803-431-3285.
For more information about SPRED, visit the SPRED Chicago website (click here to access the site). It is the official website of the SPRED headquarters in Chicago, Illinois.
Spirit Club
Mission
Spirit Club is a program which provides an opportunity for persons with special needs to enhance their social skills, communication, and sensory awareness through athletics, art and other activities. The program is designed to provide a brief period of respite for their families. It also provides an opportunity for teens and adults to serve as mentors or "buddies" for those participating in the program. This group is for ages ten and up with special needs.
Volunteer needs
The greatest need in the further development of the Spirit Club is for adult volunteers to assist in leadership roles. Volunteers, serving as part of a team, will interact with persons with special needs and their families. They will help plan and conduct each meeting to include a variety of athletic, art and service activities. They will coordinate the schedule for Spirit Club meetings and oversee the "buddies" who are teens.
Spirit Club meets once a month on a Saturday from 1 to 3 pm. Additional adult participation will enable us to meet two times a month and increase the number of participants.
To find out more, contact Carol Hearrmann
New to volunteering at St. Matthew? Please read our Safe Environment Policy.