Mission
We feed the body…by giving food and providing sustainability tools.
We feed the mind…by supporting education.
We feed the spirit…by growing faith communities through mission trips.
One Human Family, Moved by the Spirit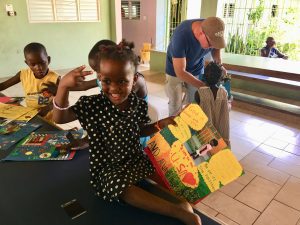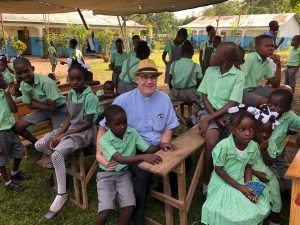 St. Matthew Mission Trips to Haiti
Join Father Pat on Jan. 27 – Feb. 1, 2020
Additional trip on Oct. 7th – Oct. 12th, 2019
Now is the time for YOU to be a 'missionary disciple' in HAITI! Be the Hands and Feet of Jesus in service to our brothers and sisters in Haiti! Experience the joy and love of being a 'missionary disciple'!
Informational meetings on :
• Sunday, August 18 at 7pm in NLC 132/125
• Tuesday, August 27th at 7pm in NLC 203
• Any questions, email missiontrip2haiti@gmail.com
2019 World Hunger Drive Goals – 11 Containers
1 Container of meal Packages to Haiti
4 Containers of Food and Supplies to Haiti
2 Containers of Food and Supplies to Jamaica
1 Container (Virtual) of Funds for Sustainability Items (such as Education, Tilapia, Chickens and Farm Products)
3 Containers of Food and Supplies Funded Outside of St. Matthew
15,000 lbs. of Food Support for Local Charlotte Area Food Pantries
Food Collection Begins on June 15th
It's easy to participate using World Hunger Drive Coupons found on the Coupon Trees located in the narthex and at all of the church entrances, OR make a monetary donation.
Monetary donations can be made by cash, check or credit card before or after Mass in the narthex, at the church entrances, OR via Faith Direct.
Here's a few illustrations of how your monetary donations can be put to work:
Support the purchase of bulk rice, beans and canned meats, fruit and vegetables.
$136 will fund 200 lbs. of bulk pinto beans.
$210 will fund 700 lbs. of bulk rice.
Help educate a child in Tremesse, Haiti for $28 a month, or $336 a year.
Support agricultural sustainability by funding the purchase of chickens, baby tilapia, livestock and feed to provide for long term needs.
$100 donation will fund the purchase of 500 baby tilapia and feed.
$220 donation will fund 30 chickens and feed.
Make a general donation to support all sustainability needs including irrigation and well maintenance.
Give a donation to support St. Matthew Packed Meals.
$84 will feed a family for one month.
Give a donation to the World Hunger Drive Team to purchase items not fulfilled by other donations.
Please donate by July 14th.
Thank you for your gift of love to help the poorest of the poor!
        
2019 World Hunger Drive Key Dates:
June 2
Online Signups for the Meal Packing Event Begin
Click here to register.
June 8/9
Signups for Meal Packing Event in the Narthex after Mass
June 15/16
World Hunger Drive Food Collection Begins/Coupon Trees
June 15
6th Annual Hoops for Hunger Basketball Tournament
June 29
Meal Packing Event
July 13/14
Last Weekend for World Hunger Drive Food Collection
October 7th – 12th
Haiti Mission Trip
     
Agencies served: Missionaries of the Poor, Catholic Charities Charlotte Diocese, 2nd Harvest Food Bank
Volunteer Opportunities
Annual June/July Food Drive and Meal Packing Event. Click here to sign up.
Time Commitment
Any time you can give is most welcome, from one hour to one thousand hours! Every contribution helps and makes this year-long event possible.
For more information, email World Hunger Drive.
New to volunteering at St. Matthew? Please read our Safe Environment Policy.