Contact Deacon Gary Schrieber for any questions regarding Divine Mercy: garyschrieber@yahoo.com
Watch Father Alar, MIC who has a special request for each of us: Father Alar's Message for Divine Mercy Help
Watch Father Alar, MIC and Jonathan Roumie for A Night of Mercy
---
The 10th Annual Day of Healing, "Joy of Mercy" was truly a blessed day!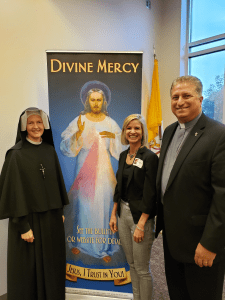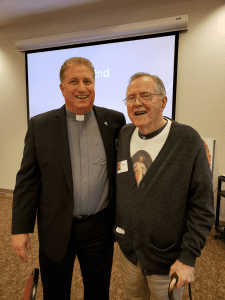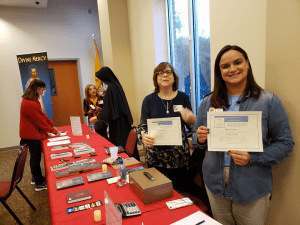 Speakers:
Joy of Mercy: Trust in Jesus              Sr. Caterina Esselen, OLM
Joy of Granting Divine Mercy           Lennie Cox, Facilitator with SMU
Joy of Jesus' Promises                         Deacon Gary Schrieber
Joy of Forgiveness                                Sr. Caterina Esselen, OLM
Day of Healing Worship Service includes: Mass, Anointing of the Sick, Blessing with St. Faustina's 1st Class Relic, Singing of the Chaplet of Divine mercy.
Divine Mercy Holy Hour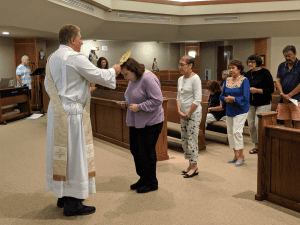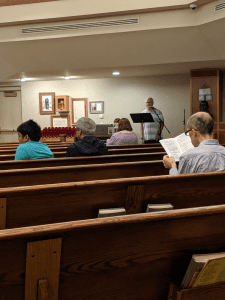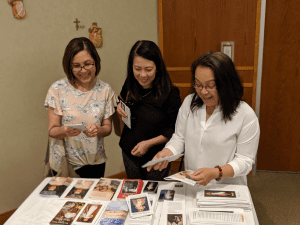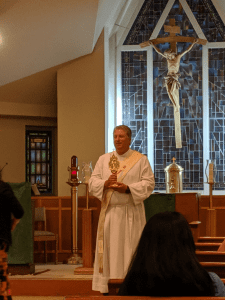 ---
Join us at 730 pm in the Daily Mass Chapel for Divine Mercy Holy Hour led by Deacon Gary Schrieber. Included in the holy hour are the Chaplet of Divine Mercy and Veneration of St Faustina First Class Relic. The holy hour is sponsored by Cenacles of Divine Mercy.
May 7 – Our Lady of Fatima
June 4 – Vocations to Religious Life
July 2 – Our Lady of Mt Carmel
August 6 – The Assumption of Mary
September 3 – Our Lady of Sorrows
October 1 – Our Lady of the Rosary
November – No Holy Hour
December 3 – The Immaculate Conception

---
Go, therefore, and make disciples of all nations, baptizing them in the name of the Father, and of the Son, and of the holy Spirit, teaching them to observe all that I have commanded you.  Matt 28:19-20
St. Faustina's Mission:
In the Old covenant I sent prophets wielding thunderbolts to My people. Today I am sending you with My mercy to the people of the whole world. I do not want to punish aching mankind, but I desire to heal it, pressing it to My Merciful Heart. (Diary, 1588)
Interested in Starting a Cenacle of The Divine Mercy?
We welcome you to begin a Cenacle of The Divine Mercy.  If you need help beginning your own group, please reach out and let us help you.
Learn the answers to some of these questions.
• What is a cenacle group?
• What happens at a cenacle session?
• What materials are needed?
• How large is a group?
• How long are the sessions?• How has being a part of a cenacle group impacted your life?
• How do you get started?
Discover the Divine Mercy Way of Life and how to bring the message of Divine Mercy to a world in great need of Jesus' unfathomable mercy.
We would love to schedule an informal gathering to help you get started; please send a message to Patricia Duran at patriciaduran44@outlook.com  
Lorraine Carpenter at cookinpinehurst@aol.com or Kathy Consler at kathyconsler@gmail.com
Cenacles of The Divine Mercy
The world around us often crushes us with demands and confusion of voices. the mobility of our culture today often weakens the family support that many in the past have relied on to make it through the tough times, and to rejoice in the good times. Consider joining a small group of people who desire to fellowship in living the truth of Divine Mercy, praying The Divine Mercy Chaplet as well as praying for each others families.  For more information contact Lorraine Carpenter, Kathy Consler at kathyconsler@gmail.com or Patricia Duran.
Divine Mercy Newsletters written by Ralph Sullivan
Commemorative Edition Fall 2017
Pictures from Divine Mercy Sunday, April 8, 2018