Christmas Mass Schedule, Confession Changes & Closings
The Immaculate Conception (Holy Day of Obligation)
Thursday, Dec. 7 (Vigil Mass)
Friday, Dec. 8
7:00 am Main Campus
9:00 am Main Campus
12:10 pm Main Campus
7:00 pm Main Campus
Christmas Eve – Sunday, Dec. 24
2:00 pm Main Campus Church
2:00 pm Main Campus Parish Center
4:00 pm Main Campus Church*
4:00 pm Main Campus Parish Center
4:00 pm Waxhaw Campus
4:30 pm Charlotte Catholic High School
6:00 pm Waxhaw Campus
7:00 pm Main Campus Church (Contemporary Music)
Midnight Main Campus Church
Christmas Day – Sunday, Dec. 25
7:30 am Main Campus Church
9:00 am Main Campus Church
9:30 am Waxhaw Campus
10:45 am Main Campus Church*
11:00 am Waxhaw Campus
12:30 pm Main Campus Church
12:30 pm Main Campus Parish Center
*denotes Masses that are livestreamed.
Mass and Confession Schedule Changes
There is no 12:30 or 5:30 pm Mass on Sunday, Dec. 24.
There are no confessions on Sunday, Dec. 24, and Dec. 31.
There is no 7 am Mass from Dec. 26 to Dec. 30.
Office Closing
Closed Friday, Dec. 22 through Tuesday, Dec. 26.

The gift shop is closed Dec. 22 through Dec. 25.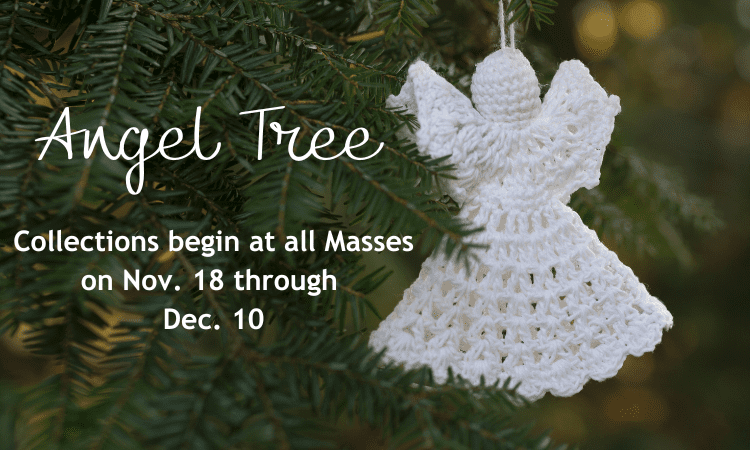 During the Holiday season the Angel Tree Ministry partners with local charities to provide gifts to struggling families right here in our community. This year again we can only accept gift cards or check donations. Donations can be dropped in the offertory boxes at the main and Waxhaw campuses during Mass, or mailed to or dropped at the church office.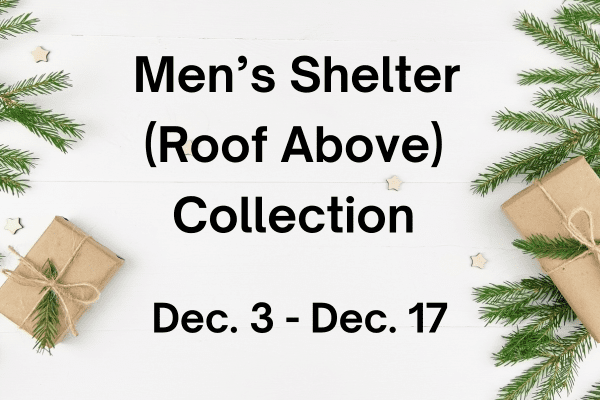 We continue to have a great need for men's underwear, t-shirts, washcloths, and shower shoes. The shelter does not have a budget for these items. The collection begins Dec. 3 and runs through Dec. 17. Please place donations in the blue collection boxes near the church entrance.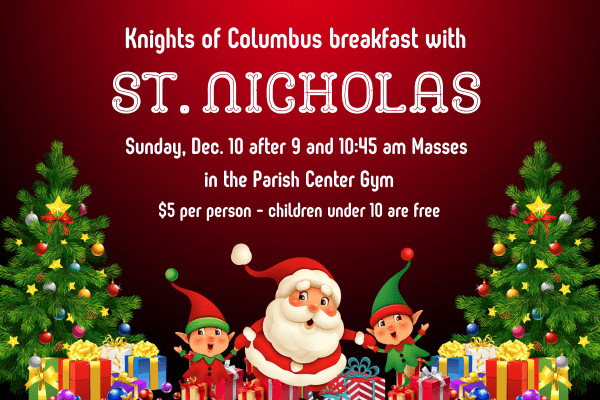 St. Nicholas is visiting our main campus on Dec. 10. In addition, the famous Knights of Columbus breakfast is returning for this special occasion. We will serve pancakes, eggs, bacon, and a breakfast biscuit after the 9 am and the 10:45 am Masses in the Parish Center Gym (main campus). The cost is $5 per person. Children under 10 are free. Parents may take photos of their children with St. Nicholas.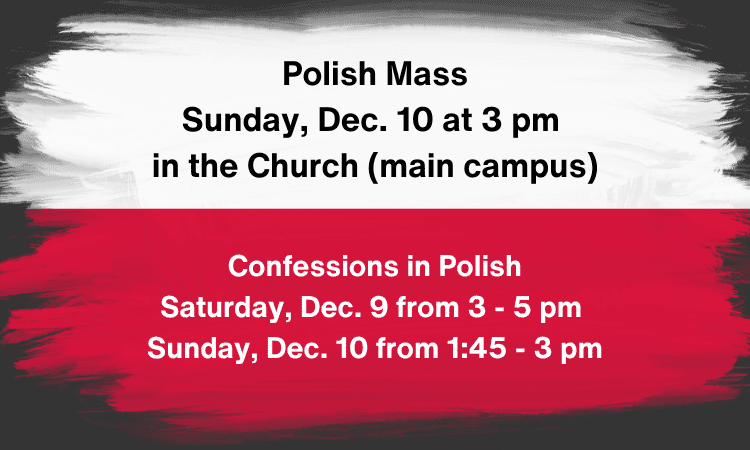 Father Mateusz Darlak will celebrate a Polish Mass on Sunday, Dec. 10, at 3 pm in the main campus church.
We will offer confessions in the Polish language on Saturday, Dec. 9, from 3 to 5 pm, and on Sunday, Dec. 10 from 1:45 to 3 pm. All are welcome to attend.
For more information, contact Barbara Banas at 303-204-8342 or bbanas153@aol.com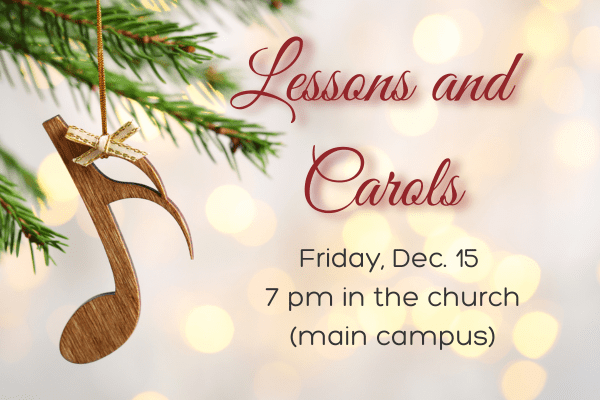 The Festival of Lessons and Carols is a service of Scripture and song that dates back to the late 19th century. Lessons and Carols is a combination of the proclaimed Word and the prayer of music. Lessons are formed from instrumental music, Scripture, and the poetry of song lyrics to prepare us for the coming of the Christ Child heralded at Christmas. Our choir and parish lectors will lead Lessons and Carols. This Advent service is appropriate for the whole family.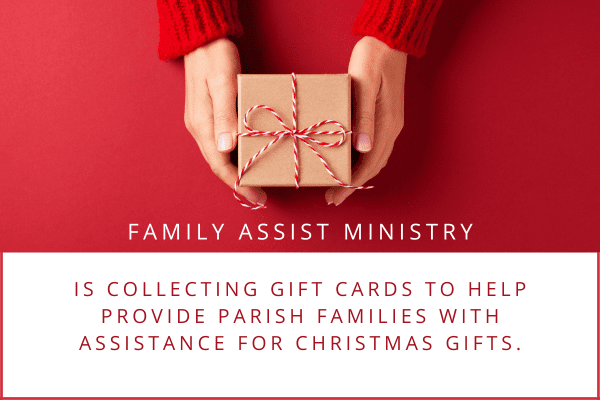 Family Assist Ministry provides assistance to parish families who are experiencing financial hardship. This Christmas, we will provide those in need with gift cards so they can shop for their family gifts. If you would like to join us in this effort, please contact Don Meanor at 704-543-7677 x 1018.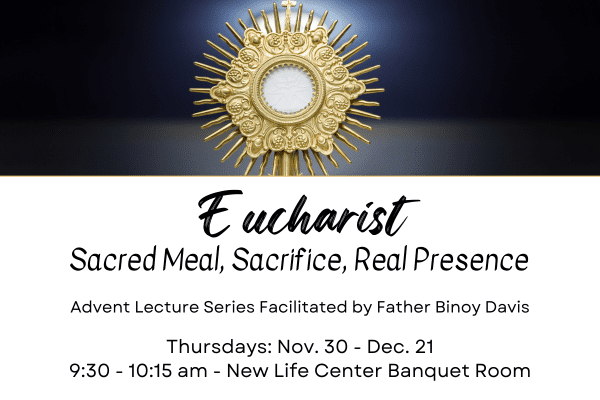 Advent Lecture Series Eucharist: Sacred Meal, Sacrifice, Real Presence
Christ is alive and fully present in the Eucharist. Join Father Davis on Thursdays during Advent as we delve into the source and summit of our Faith with Bishop Barron's Eucharist: Sacred Meal, Sacrifice, Real Presence. The study will give us a deeper understanding of the precious gift of Christ's body, blood, soul and divinity. Thursdays, Nov. 30, Dec. 7, Dec. 14 and Dec. 21 9:30 to 10:15 am New Life Center Banquet Room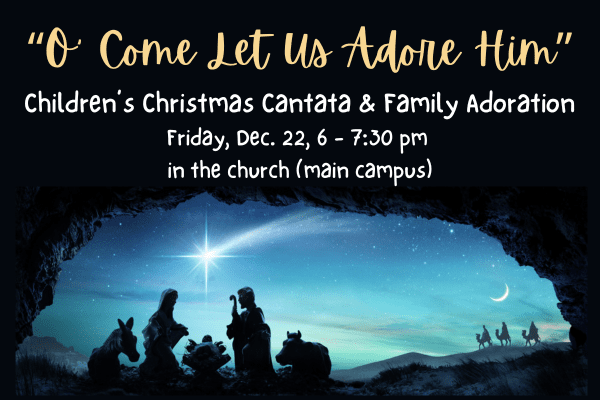 Children's Christmas Cantata & Family Adoration
Friday, Dec. 22 from 6 – 7:30 pm in the church (main campus).
The first part of the evening is the children's cantata – a telling of the Nativity story set to music – followed by a time of Adoration. The evening will conclude with cookies and cocoa in the courtyard!