The opioid epidemic is a continuing and growing issue in our community. You joined us in the spring as we talked to two parish families whose lives have been forever changed due to the effects of drugs, and those videos are available at the bottom of this webpage, and also as we presented an informational panel and community forum. Take time now to watch and share the video below, which highlights several people who are working in our local community to combat the crisis, as well as offering ways you can find help or work to end this frightening and escalating issue.
Resources:
St. Matthew Catholic Church Counseling Services: 704-543-7677
Substance Abuse and Mental Health Administration Treatment Services Locator: https://findtreatment.samhsa.gov/ or 1-800-662-HELP (4357)

National Institute of Health National Institute on Drug Abuse Resources for Patients and Families: https://www.drugabuse.gov/patients-families https://www.drugabuse.gov/drugs-abuse/heroin

National Council on Alcoholism and Drug Dependence: http://www.ncadd.org/ or 24-hour Hope Line at 1-800-622-2255

Partnership for Drug-Free Kids Helpline: 1-855-DRUGFREE (1-855-378-4373) or http://www.drugfree.org/get-help/helpline/
https://injuryfreenc.shinyapps.io/OpioidActionPlan/
North Carolina's Opioid Action Plan
Narcotics Anonymous: http://www.na.org/

American Academy of Addiction Psychiatry: http://www.aaap.org/patient-resources/helpful-links/ 
Articles:
How a Generation of Young Athletes Became Addicted to Heroin
Opioids Can Derail the Lives of Older People, Too
Overdosing from despair: How the Church can fight the opioid epidemic
On average, 115 Americans die every day from an opioid overdose. (CDC)
In North Carolina, opioid-related deaths increased by over 800% between 1999 and 2016.
Union County EMS has had a 600% increase in overdose calls in the last four years.
The current opioid epidemic is the deadliest drug crisis in American history. Overdoses, fueled by opioids, are the leading cause of death for Americans under 50 years old – killing roughly 64,000 people last year, more than guns or car accidents, and doing so at a pace faster than the H.I.V. epidemic did at its peak.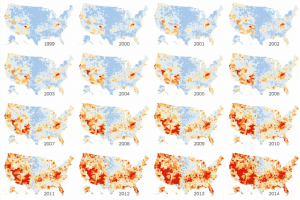 How overdose deaths rippled across the United States.
Credit Haeyoun Park and Matthew Bloch/The New York Times.
If you would like more information on this epidemic click here.