There are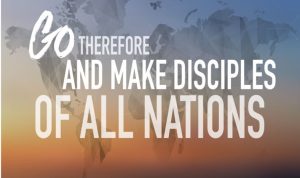 several opportunities to answer Jesus' call to "Go therefore, and make disciples of all nations"!  We invite you to come in person to the Office of Faith Formation, but you can also request to be contacted by selecting the appropriate staff member links below.
Responsibilities for all volunteers…
complete Virtus Training and safe environment paperwork
commit to be prepared and on time 
commit to ongoing formation in your own faith and prayer life
commit to pray for and love the youth and families you are serving
Volunteer Opportunities
In order to ensure that we offer safe programs of quality, several volunteers are needed in differing capacities.  Please see below for the options of ways in which to serve.  If interested, simply reach out to the Office of Faith Formation!
Catechist
Catechist is one who facilitates a lesson (preschool/elementary) or small group discussion (middle/high school) in order to pass on the knowledge and love of our Catholic faith.
Catechists are needed to serve in our programs for all age groups!  Two adults or high school teens will be placed together to facilitate a lesson/group discussion for no more than 8 children.
Curriculum, outline and lesson activities are provided for all age groups.  To learn more about specific programs, please reach out to the appropriate grade level coordinator!
For general responsibilities and time commitment, please see the drop-down "Expectations – Session Catechists and Volunteers" above.
Program Support
Session Volunteer: present at the session to help ensure the safety of children during arrival, dismissal and while at session.  May also be asked to help prepare lesson materials (cutting, sorting, etc) or to serve as an assistant in a small group if a catechist is absent.
For general responsibilities and time commitment, please see the drop-down "Volunteer Expectations" above.
---
Family Discipleship (Elementary), Xtreme Edge (Middle School Event) or Family Connection (Social/Service) Program Volunteer: assist with set-up or break-down of events, be present to help ensure the safety of youth who are present.  If willing, can also assist in facilitating activities.
---
Program Office Volunteer: assist with preparation for lessons, programs, activities and events.  Weekday mornings, 10 am to noon.
For more information, contact Diane Kiradjieff
Youth Ministry Volunteer
For information specific to our youth ministry program volunteer opportunities, please click here.
Expectations - Session Catechists and Program Volunteers
We deeply appreciate the time you sacrifice and the passion you bring to sharing our Catholic faith with the families of St. Matthew, whether as a catechist, rotation leader or session volunteer… but we also value the families' time, safety and their expectations of our programs.  As such, we want you to be fully aware of the commitment required.
Please visit your VIRTUS account to ensure you are up to date on all bulletins and your background check has not expired.
This year's training will take place in two ways.  First, a series of four weekly videos – these will cover the more practical aspect of serving as a volunteer at St. Matthew, such as procedures, safety and general expectations.
The second part of the training will be grade level/program specific, and will take place in person. These dates will be announced at the end of July.
It is also expected that you commit to growing your own faith by participating in our ongoing formation for program volunteers that will be offered through out the year, either in person or online.
For program volunteers who serve as Catechists, there will be approximately 20 minutes of 'preparation' time for upcoming lessons that will be done at home, prior to sessions.
As a program volunteer you are expected to be present and ready to greet the children/youth in your small group 15 minutes before the session actually begins. 

 It is imperative that you are able to abide by this, as we will not be able to begin accepting children through the doors until all session volunteers, rotation leaders, catechists and small group leaders are in place.  Arriving after the fifteen minute prior to mark will delay the entire session start for everyone!