Welcome! We are excited you are considering joining us in passing on our beautiful Catholic faith!  
There are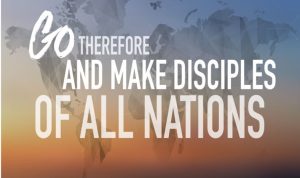 several opportunities to answer Jesus' call to "Go therefore, and make disciples of all nations"!  We invite you to come in person to the Office of Faith Formation, but you can also request to be contacted by selecting the appropriate staff member links below.
Qualities of a Volunteer:
a desire to grow in and share the Catholic faith
an awareness of God's grace and the desire to respond to that grace
a commitment to live a sacramental and pray-filled life
a respect for the teachings of the Church

love, joy, peace, patience, kindness, goodness, self-control, gentleness and faithfulness

a basic understanding of or willingness to learn more about Catholic teaching, Tradition and Scripture
honest and caring relationships with the age group being served
Responsibilities for all volunteers…
complete Virtus Training and safe environment paperwork
commit to be prepared and on time 
commit to ongoing formation in your own faith and prayer life
commit to pray for and love the youth and families you are serving
Volunteer Opportunities
If interested in one of the opportunities, please select the link to email the staff coordinator for that role and begin the process to register as one of our program volunteers!