Considering becoming Catholic?
Are you, or is someone you know, considering becoming Catholic and missed one of our inquiry nights? Simply complete an inquiry form and we will contact you regarding the RCIA program. If you'd rather come and ask your questions in person, you are welcome to come to our first session on September 12th from 9-10:30am in the Banquet Room. The Banquet Room is marked 3a on the map and the best door to enter is indicated by the orange arrow. We look forward to meeting you on September 12th!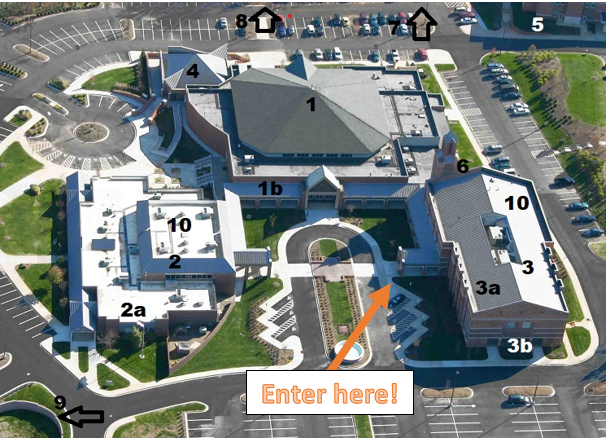 The Rite of Christian Initiation of Adults (RCIA) is the process used by the Catholic Church to present the beliefs and practices of the Catholic faith to those adults who are interested in coming into full communion with the Church. Adult Catholics who have not yet received the Sacrament of Confirmation or who simply want to learn more about their faith may also benefit from participating in RCIA.
Participants in the RCIA program, known as Candidates or Catechumens, will attend a series of classes which explain the teachings and practices of the Catholic Church and their origin in Sacred Scripture and Tradition. Candidates will also be invited to participate in the life of prayer, worship, and personal conversion which characterizes the life of a Catholic Christian.
Upon completion of this program, candidates will be prepared to make the decision to come into full communion with the Catholic Church. This reception takes place with the celebration of the Sacraments of Initiation on the evening before Easter Sunday at the Easter Vigil Mass.
If you are interested in taking part in the RCIA program in the future, please begin by filling out the Interest Form below. Our RCIA team will be in touch to welcome you and answer any questions you might have.
RCIA begins in September and continues to meet until just after Easter.
We meet most weeks, holidays excepted.
On normal weekends we have a session on Sunday at 9:00 am or Monday at 7:00 pm. You can choose which session works best for you.
If you would like more information, email Rachel at rachelw@stmatthewcatholic.org.
The schedule may undergo some changes as the year develops. A new schedule will be available here and at our meetings when changes occur.
Volunteer opportunities and commitments
Sponsors to accompany Candidates and Catechumens throughout their time in RCIA and especially during the early days of their Catholic life.
RCIA team members help in a number of ways. Some help organize and facilitate the classes. Some provide hospitality during the classes, helping everyone to feel comfortable and welcome. Some volunteers provide background administrative help or organizational help in preparing for the various rites that the candidates and catechumens will undergo throughout the year.
The time commitment for volunteers is about 2 hours a week. If you'd like to know more or learn how to help, contact Rachel Willoughby at rachelw@stmatthewcatholic.org.
New to volunteering at St. Matthew? Please read our Safe Environment Policy.
---
To find out more about anything you've read above, contact Rachel Willoughby at rachelw@stmatthewcatholic.org.
---
RCIA Photo Gallery