Mission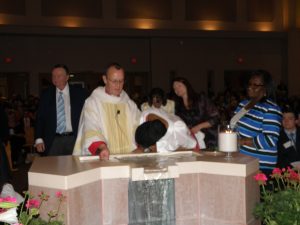 The Rite of Christian Initiation of Adults is the process used by the Catholic Church to present the beliefs of this faith to those adults who have made a conscious decision to explore coming into full communion with the Church.
Our RCIA Team, in conjunction with the pastoral staff, is committed to the presentation of the doctrine of our faith, in a welcoming and understandable manner, to members of our community who have made the decision to seek this step in their personal faith journey, and join with us as we strive to live the mission of Jesus Christ through prayer, service, outreach, fellowship and a true sense of family, as we minister to all members of our parish and community, especially to those in need.
Information
Schedule: We begin on Sunday September 8 at 9:00 am in the Banquet Room. We meet most weeks except for holidays. On normal weekends we have a session on Sunday at 9:00 am or Monday at 7:00 pm. You can choose which session works best for you. Click here for the 2020 Draft RCIA Web Schedule.
Volunteer opportunities
Sponsors to accompany Candidates and Catechumens on their journeys. Meetings are held weekly from September through Easter on either Sunday mornings or Monday evenings.
Time commitment of volunteers
Sponsors: Two hours per week
---
To find out more, contact Deacon Jack Staub.
New to volunteering at St. Matthew? Please read our Safe Environment Policy.
---
RCIA Photo Gallery