In the Old covenant I sent prophets wielding thunderbolts to My people. Today I am sending you with My mercy to the people of the whole world. I do not want to punish aching mankind, but I desire to heal it, pressing it to My Merciful Heart.

(Diary of Saint Maria Faustina Kowalska, 1588)
Follow this link to learn more about Divine Mercy with Father Michael Gaitley, MIC – Click HERE
Father Michael Gaitley's 30 minute crash course on the Divine Mercy: Click HERE
Divine Mercy Sunday: April 24, 2022
Please join us for the Divine Mercy 3 pm Hour of Great Mercy on Sunday, April 24, 2022 in the St Matthew church sanctuary for veneration of the Divine Mercy Image, praying of the divine mercy chaplet, veneration and blessing by a 1st class relic of St Faustina, and benediction with the assistance of Deacon Gary Schrieber.
Following the 3PM Hour of Great Mercy all are invited to the banquet room of the New Life Center for a reception hosted by Cenacles of Divine Mercy.  There will be a resource table with divine mercy materials available as well as information on joining a divine mercy cenacle group.
Join the world in unison, praying the Divine Mercy Novena beginning on Good Friday, April 15, 2022
Divine Mercy Holy Hour:  Please contact Lorraine Carpenter at 704-430-8484 for the next Divine Mercy Holy Hour.
The holy hour at St. Matthew is sponsored by Cenacles of Divine Mercy.
Please note: There will be no March Divine Mercy Holy Hour due to the Divine Mercy Day of Healing on Saturday, March 5.
Download the Divine Mercy Holy Hour booklet Divine Mercy Holy Hour Single page booklet
Contact Deacon Gary Schrieber for any questions regarding Divine Mercy: garyschrieber@yahoo.com
---
Cenacles of The Divine Mercy
A cenacle is a small Christian community of no more than 8 persons per group who attend faith formation sessions based on conversations between St. Faustina and Jesus as recorded in her diary.  The introductory phase is a 13 week session covering different topics connected to Divine Mercy.  The group meets for about 90 minutes each week and starts each session by watching a DVD from the National Shrine of Divine Mercy in Stockbridge, MA, followed by a discussion on the topic for the week, next the group members are invited to offer up prayer intentions and prayers of gratitude for blessings received and then together we pray the Chaplet of Divine Mercy.  There is some time at the end of the session for socialization.  We are hoping to start a new cenacle group sometime in May.
By you joining a Divine Mercy Cenacle our goals are:
Bring the hurting world the message of Divine Mercy
Encourage members to practice their faith through spiritual and corporal works of mercy
Learn to grow in their ability to be thankful for their blessings, to place their trust in God, to experience His mercy and radiate it out to others.
If you have any questions about joining a cenacle, please contact Lorraine Carpenter at 704-430-8484.
Pray the Divine Mercy Chaplet from the Marians of the Immaculate Conception website: How to Recite the Chaplet of The Divine Mercy | The Divine Mercy
How to Recite The Chaplet of The Divine Mercy
The Chaplet of Mercy is recited using ordinary Rosary beads of five decades. The Chaplet is preceded by two opening prayers from the Diary of Saint Maria Faustina Kowalska and followed by a closing prayer.
---
1. Make the Sign of the Cross
In the name of the Father, and of the Son, and of the Holy Spirit. Amen.
2. Optional Opening Prayers
St. Faustina's Prayer for Sinners
O Jesus, eternal Truth, our Life, I call upon You and I beg Your mercy for poor sinners. O sweetest Heart of my Lord, full of pity and unfathomable mercy, I plead with You for poor sinners. O Most Sacred Heart, Fount of Mercy from which gush forth rays of inconceivable graces upon the entire human race, I beg of You light for poor sinners. O Jesus, be mindful of Your own bitter Passion and do not permit the loss of souls redeemed at so dear a price of Your most precious Blood. O Jesus, when I consider the great price of Your Blood, I rejoice at its immensity, for one drop alone would have been enough for the salvation of all sinners. Although sin is an abyss of wickedness and ingratitude, the price paid for us can never be equalled. Therefore, let every soul trust in the Passion of the Lord, and place its hope in His mercy. God will not deny His mercy to anyone. Heaven and earth may change, but God's mercy will never be exhausted. Oh, what immense joy burns in my heart when I contemplate Your incomprehensible goodness, O Jesus! I desire to bring all sinners to Your feet that they may glorify Your mercy throughout endless ages (Diary of Saint Maria Faustina Kowalska, 72).
You expired, Jesus, but the source of life gushed forth for souls, and the ocean of mercy opened up for the whole world. O Fount of Life, unfathomable Divine Mercy, envelop the whole world and empty Yourself out upon us.
(Repeat three times)
O Blood and Water, which gushed forth from the Heart of Jesus as a fount of mercy for us, I trust in You!
3. Our Father
Our Father, Who art in heaven, hallowed be Thy name; Thy kingdom come; Thy will be done on earth as it is in heaven. Give us this day our daily bread; and forgive us our trespasses as we forgive those who trespass against us; and lead us not into temptation, but deliver us from evil, Amen.
4. Hail Mary
Hail Mary, full of grace. The Lord is with thee. Blessed art thou amongst women, and blessed is the fruit of thy womb, Jesus. Holy Mary, Mother of God, pray for us sinners, now and at the hour of our death, Amen.
5. The Apostles' Creed
I believe in God, the Father almighty, Creator of heaven and earth, and in Jesus Christ, His only Son, our Lord, who was conceived by the Holy Spirit, born of the Virgin Mary, suffered under Pontius Pilate, was crucified, died and was buried; He descended into hell; on the third day He rose again from the dead; He ascended into heaven, and is seated at the right hand of God the Father almighty; from there He will come to judge the living and the dead. I believe in the Holy Spirit, the holy catholic Church, the communion of saints, the forgiveness of sins, the resurrection of the body, and life everlasting. Amen.
6. The Eternal Father
Eternal Father, I offer you the Body and Blood, Soul and Divinity of Your Dearly Beloved Son, Our Lord, Jesus Christ, in atonement for our sins and those of the whole world.
7. On the 10 Small Beads of Each Decade
For the sake of His sorrowful Passion, have mercy on us and on the whole world.
8. Repeat for the remaining decades
Saying the "Eternal Father" (6) on the "Our Father" bead and then 10 "For the sake of His sorrowful Passion" (7) on the following "Hail Mary" beads.
9. Conclude with Holy God (Repeat three times)
Holy God, Holy Mighty One, Holy Immortal One, have mercy on us and on the whole world.
10. Optional Closing Prayers
Eternal God, in whom mercy is endless and the treasury of compassion — inexhaustible, look kindly upon us and increase Your mercy in us, that in difficult moments we might not despair nor become despondent, but with great confidence submit ourselves to Your holy will, which is Love and Mercy itself.
O Greatly Merciful God, Infinite Goodness, today all mankind calls out from the abyss of its misery to Your mercy — to Your compassion, O God; and it is with its mighty voice of misery that it cries out. Gracious God, do not reject the prayer of this earth's exiles! O Lord, Goodness beyond our understanding, Who are acquainted with our misery through and through, and know that by our own power we cannot ascend to You, we implore You: anticipate us with Your grace and keep on increasing Your mercy in us, that we may faithfully do Your holy will all through our life and at death's hour. Let the omnipotence of Your mercy shield us from the darts of our salvation's enemies, that we may with confidence, as Your children, await Your [Son's] final coming — that day known to You alone. And we expect to obtain everything promised us by Jesus in spite of all our wretchedness. For Jesus is our Hope: through His merciful Heart, as through an open gate, we pass through to heaven (Diary, 1570).
Taken from The Marian Of the Immaculate Conception website: How to Recite the Chaplet of The Divine Mercy | The Divine Mercy  3/9/2022
You can find more interesting topics regarding The Chaplet of The Divine Mercy by clicking on this web link from the Marians of the Immaculate Conception: Search | The Divine Mercy 
Help St. Faustina become a Doctor of the Church
A humble Polish nun, St. Faustina received extraordinary revelations in the 1930s, which she recorded in her diary. Our Lord told her, "In the Old Covenant I sent prophets wielding thunderbolts to My people. Today I am sending you with My mercy to the people of the whole world. I do not want to punish aching mankind, but I desire to heal it, pressing it to My Merciful Heart" (Diary of Saint Maria Faustina Kowalska, 1588). Jesus specially chose her for the mission of bringing His message of Mercy to the world, and He called Divine Mercy Sunday mankind's "last hope of salvation" (995). Your help in petitioning the Holy See to declare St. Faustina a Doctor of the Church would magnify Christ's redemptive mission to proclaim anew His infinite love and mercy for all humanity. Please help spread God's Divine Mercy through St. Faustina!
Divine Mercy Videos
Rest-in-Peace-Fr-Seraphim-Michalenko-MIC-1930-2021-8877
Father Alar talks about PRAYER
"For God and Souls" Divine Mercy Newsletters
Divine Mercy Holy Hour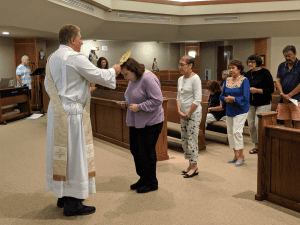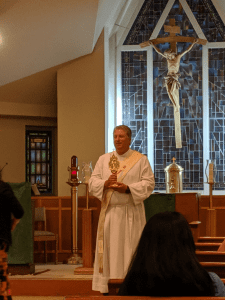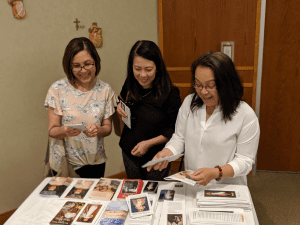 Joy of Mercy, Fall 2019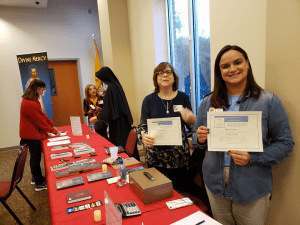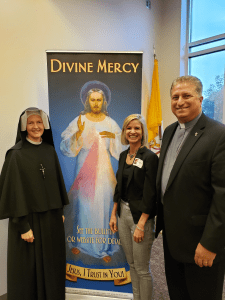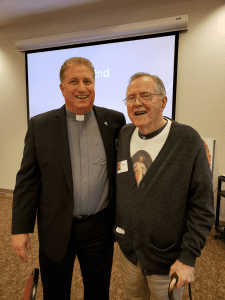 Divine Mercy Sunday, April 8, 2018